Featured Illustration by Cassie Manning of @NubianRockChickArt
It's that time of year when September hits and many influencers, trendsetters, creatives, and style gurus are looking forward to what's next in season during New York Fashion Week. Naturally Curly made its third appearance at NYFW, and took over Gotham Hall in New York's Garment district to celebrate Real Women, Real Fashion, and Real Texture on Thursday September 7th and I was honored to be back on the scene again! The show was powered by international specialty retailer Sally Beauty and featured runway partners such as Cantu, Carol's Daughter, Creme of Nature, Curlformers, Shea Moisture, and Mielle Organics while Michelle Breyer, Naturally Curly's co-founder, and professional stylist, Mo Knows Hair, hosted the night. Each of the runway partners had a theme which spoke to their brand's essence so take a dive into their hair trends and looks below.
Related Read: NYFW 2016 Texture on The Runway
The Lead and Global stylist for Cantu, Maria Antoinette, focused on being real by showcasing styles that can be attained by women and to kick up the hair inspiration for everyone watching. A few of her key Cantu products she likes to highlight are the Apple Cider Vinegar line like the Root Rinse, Dry Co-Wash, and Waterless Wash which is great for keeping the scalp, or the strands of the hair, build up free and minimizes itchiness and bacteria. Cantu was able to highlight their men's and kids collection that night as well!  
Carol's Daughter "Brooklyn Then & Now" hair concept was lead by Head of Education for L'Oreal's Multicultural Beauty Division, Mezei Jefferson, with clothing by local Brooklyn designers. Jefferson mentions how styles can be seen from back in the day up to present day Brooklyn with inspiration pulled from, AfroPunk, street style, and the Caribbean. All styles were achieved using the new Pracaxi Nectar line known for its conditioning properties and styling power.
"We love 4c hair, which we feel doesn't get its just due in the marketplace, so we really wanted to showcase that […] we have some braids and then we have some blown out styles that are just being toned to give it some volume and fullness without making it bone straight." -Mezei Jefferson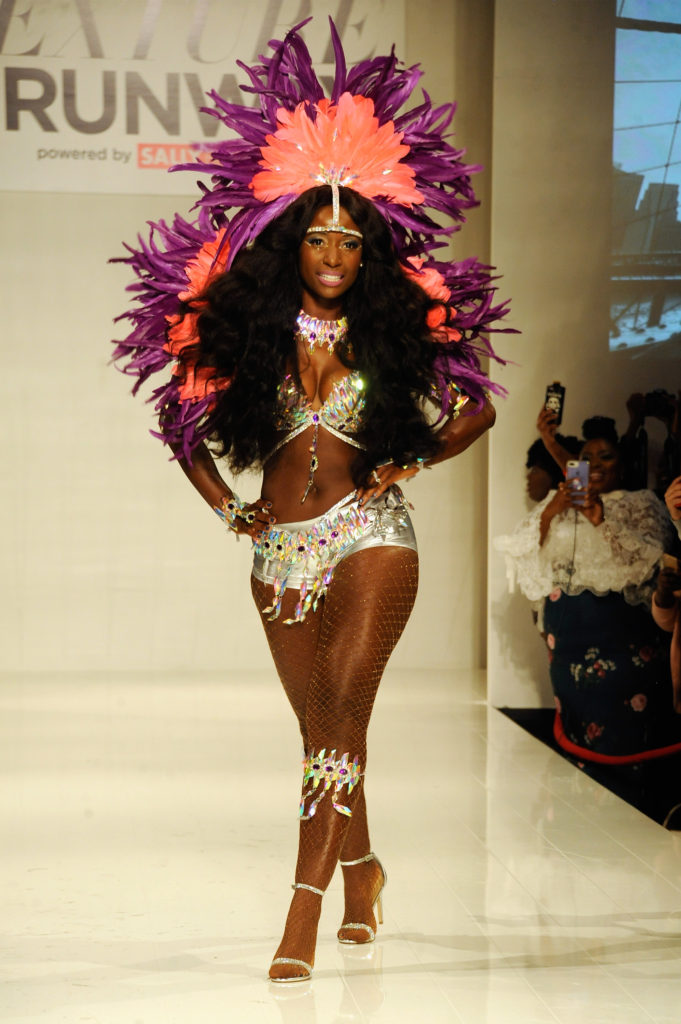 NEW YORK, NY – SEPTEMBER 07: A model walks the runway for Carol's Daughter during Texture On The Runway, presented by NaturallyCurly, powered By Sally Beauty at Gotham Hall on September 7, 2017 in New York City. (Photo by Rabbani and Solimene Photography/Getty Images for NaturallyCurly)
Creme of Nature's "Texture on Texture" was lead by Editorial and Celebrity Stylist Pekela Riley who believes "texture has a story within itself and there's always more to be revealed, so [we've created] little details in intricacies in these textures." It also coincides with Creme of Nature's 'I am super natural' campaign which is also on trend with the runway concept and used many key products like her faves the Perfect Edges Black or cocktailing it with the Styling Snot for many of the textured, yet shiny styles. DavidDelaCruz designed clothing for the urban flare details which also shared the same story as the hair.
"Our natural hair is unapologetically big, and kinky, and coily, and short. We're going to do whatever we want to do with our hair without explanation." -Pekela Riley      
For Shea Moisture's "The Braid Revolution" I chatted with Image Activist, writer, creative director & cultural commentator, Michaela angela Davis and Global Natural Stylist and Shea Moisture ambassador Diane C. Bailey. Davis described the revolution as "an intersection of art, history, particularly with black women in history, and street style but you'll see like braids, locs, and all the textures all at once. Giving you LIFE with lots of embellishments but really using hair as the fiber that it is and weaving it into styles you can't do at home [laughs]."
"You're gona see natural hair in its most divine artistic [way]. We're taking wearable art and wearing it and pairing it with urban clothing." -Diane C. Bailey
It was an amazing experience and I met so many different women; it felt so great to be surrounded and in the company of beautiful, talented, and creative people yet again. I hope you feel inspired to try a few new styles or to find great products to accommodate your hair care needs!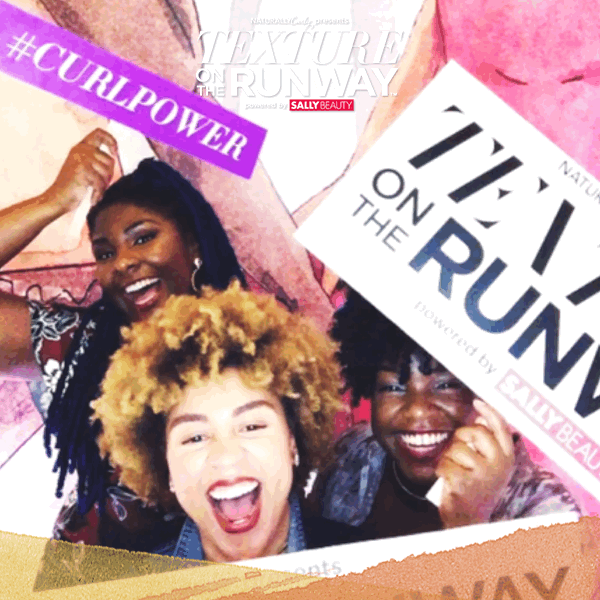 Which style would you wear from off of Texture on The Runway or feel inspired to try? I want to hear your thoughts please!