This weekend my partner in crime, RuggedlyGroomed, and I headed up to the big apple during fashion week for an experience revolving around wavy, curly, and coily hair textures. Texture Media is the "dynamic social platform that empowers and engages a multicultural community of female Influencers" which include brands such as NaturallyCurly.com, CurlMart and Curly Nikki just to name a few (TextureMedia.com). Texture Media partnered with Target to bring their fall looks to life while trendy hair art was created by hair care pioneers such as Dark and Lovely's Au Naturale, Design Essentials, Creme of Nature, Cantu and Garnier.
Related Read: 4th of July Angled Fro-Hawk + Au Naturale Anti-Breakage Review
Not only was this my first time being invited to Fashion Week, but this was my first time ever hearing of a runway show being dedicated to showcasing textured hair styles and trends so I knew I was in for a special treat. I even had backstage access to all the amazing hair creation and makeup designing that was happening before the show and I was too excited to check out some of the celebrity stylist that I follow and become inspired by! As soon as AJ and I hit The L'Oreal Soho Academy we were immediately inside the hustle and bustle of salon studio filled with all shades of models and their their varying hair textures, hair and makeup artist, photographers and publicists along with bloggers like myself. I was able to get some one-on-one time with Anika Robertson, the Design Essentials Natural marketer, who was leading the runway event for her team and celebrity stylist Chuck Amos from Creme of Nature.
As Robertson put it, Design Essentials was "declaring war on dryness [and] its an aggressive theme. We are highlighting all different textures and different styles so you'll see a lot of variety, but we want everyone to basically embrace their curls and to rock it with confidence." She hit it right on the nail didn't she! Design Essentials also highlighted their Coconut & Monoi DE Natural collection that is available at Target (so don't forget to show that brand some love while you're out shopping). The Almond & Avocado shampoo, conditioner, and leave-in products were other heavily used items to create the looks for the runway. Robertson explains it as "a great foundation to hydrate the hair [while] the Avocado & Almond leave-in is a catch all because you can leave it in, add a styler to it for more hold but it gives it [a] nice softness. We had an assortment that we highlighted for the fashion show so that goes from the Coconut and Moni Mist, the Curl Refresher and our Honey & Shea Edge Tamer which is one of our best sellers." To top it all off the wardrobe styling was done by Carmen Lilly who is notable for styling Barbadian and top chart songstress Rihanna.
Design Essentials Lead Celebrity Artist Michelle Swiney, Philadelphia Celebrity & Platform Artist Kia Sterling and DE Product & Runway Rep Macro Vogt add finishing touches to a model.
As for Creme of Nature's runway inspiration the designer David Delacruz channeled "a 70's sport, 70's luxurious girl in the disco era and a little bit of 80's because that was basically when black hair was having its textures before, like, pure relaxed and straight hair came out in the mid 80's" describes Chuck Amos. When it came to executing the hair styling Amos explained that we'll see "heavy bangs like Linda Ronstadt kind of feeling or Jennifer Beal's Flash Dance. And then we've got a model that has a Grace Jones, new wave, angular textured hair [style]" and so much more.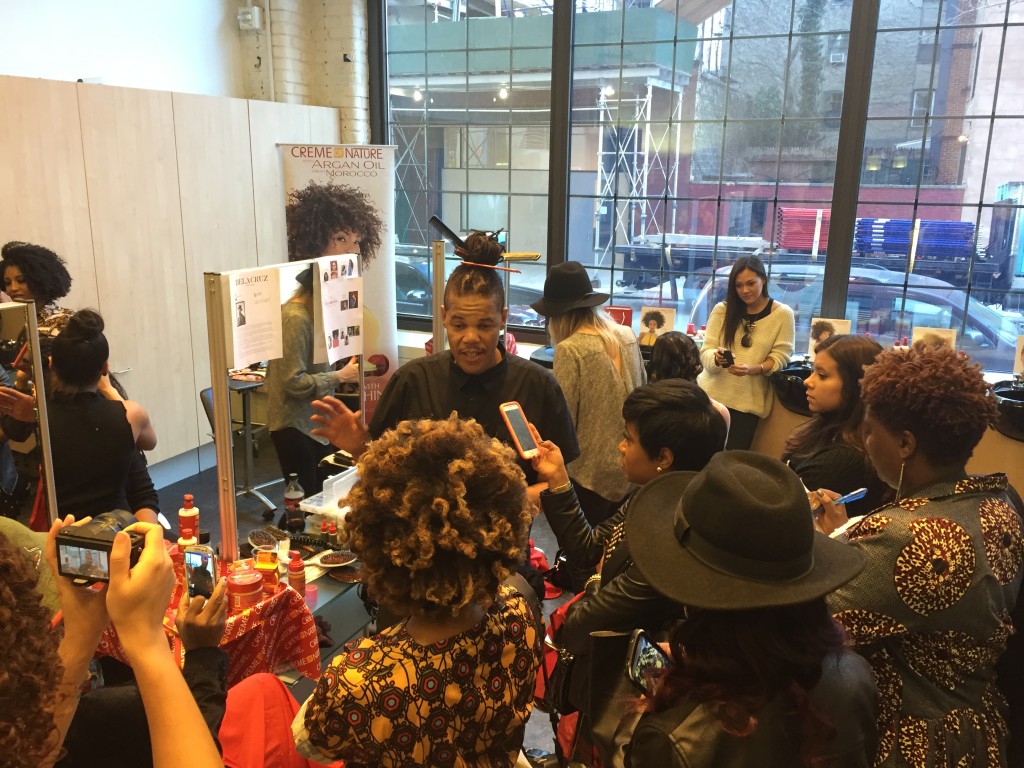 "We want to really be modern and I know these hair care companies have hair that looks like you have the ends done perfect but then it doesn't really read as cool anymore because the new kids want to show some of their broken ends. They want to show some of the frizz; they want to show off that their transforming from straight to curly so there is a whole different thing we have to balance off about how we can get hair care to show what the products do but yet still have an excitement and a modernity that Fashion Week is for 2016." –Chuck Amos, Celebrity Hair Stylist     
Following the model prep, it was show time as all the beauty and style editors, natural hair bloggers, and social media influencers flooded City Winery for Texture on the Runway. It was truly a sight to see as all the beautiful women on the runway, and around the room, who came together to celebrate something so vital as textured hair in our beauty culture because there was a time when this characteristic of ours, like many others, was frowned upon. Let's keep empowering and changing the beauty industry for good!