The night before our Independence Day celebration I had planned to style my hair with some of my usual products until I came home to a box full of Dark and Lovely and Mizani hair products from a dear friend, Sara Charles, at Bratskeir & Company. Dark and Lovely's Au Naturale collection has been on my list of products to try but I never fully got around to doing so until it showed up on my door step. Another reason why I have been brushing it off was was due to my hesitance. I know there may be some people out there, myself included, who are a bit skeptical about the natural hair collections being made by companies that produce relaxers and straightening systems. In the back of my mind I always wonder if they can actually deliver by providing products that will manage, strengthen, and maintain my kinky hair and the textures of many other curly naturals. Since it was time to cleanse and style my hair for all of the July 4th festivities I tried some new products as well.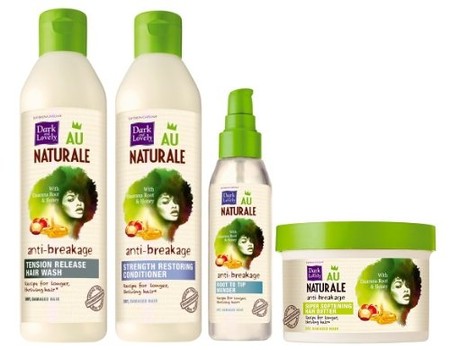 I used the entire Au Naturale Anti- Shrinkage Collection and the scent reminds me of a tropical paradise. 
To prep my hair for my wide Angled Fro-Hawk style, I detangled my hair and sectioned it with chunky twists to make shampooing my hair easier. I used the Tension Release Hair Wash to cleanse my hair twice. It's great for dry itchy scalps and if your hair has product build up. The shampoo was creamy with a lather but instead of feeling dry and parched after cleansing my hair it was still moisturized. Next, I conditioned with the Strength Restoring Conditioner which can be used as a rinse out or deep conditioner. I applied the conditioner and let it sit for about 13-30 minutes with a plastic cap on my head. It has a thick and creamy texture that will surely penetrate the hair shaft. After shampooing and conditioning my hair it was time to prep for styling. I always like to apply an oil to my hair so it can penetrate through the hair cuticle and dries light and moist. This time I tried the Mizani Supreme Oil Hair Treatment which combines 2 surface oils (Jojoba Oil, Sesame Oil) and 6 penetrating oils (Avocado Oil, Apricot Oil, Olive, Argan Oil, Sunflower Oil, Rice Bran Oil) that are ultra-light and made for any hair texture. Then I applied the Root to Tip Mender to each section of my hair before two strand twisting it. I made about 10-14 chunky twist and then applied the Super Softening Hair Butter only to the ends of my hair. The next morning my hair had air dryed fully, it smelt wonderful and was ready to be styled.
Just with chunky two strand twists my angled Fro-Hawk had ample definition!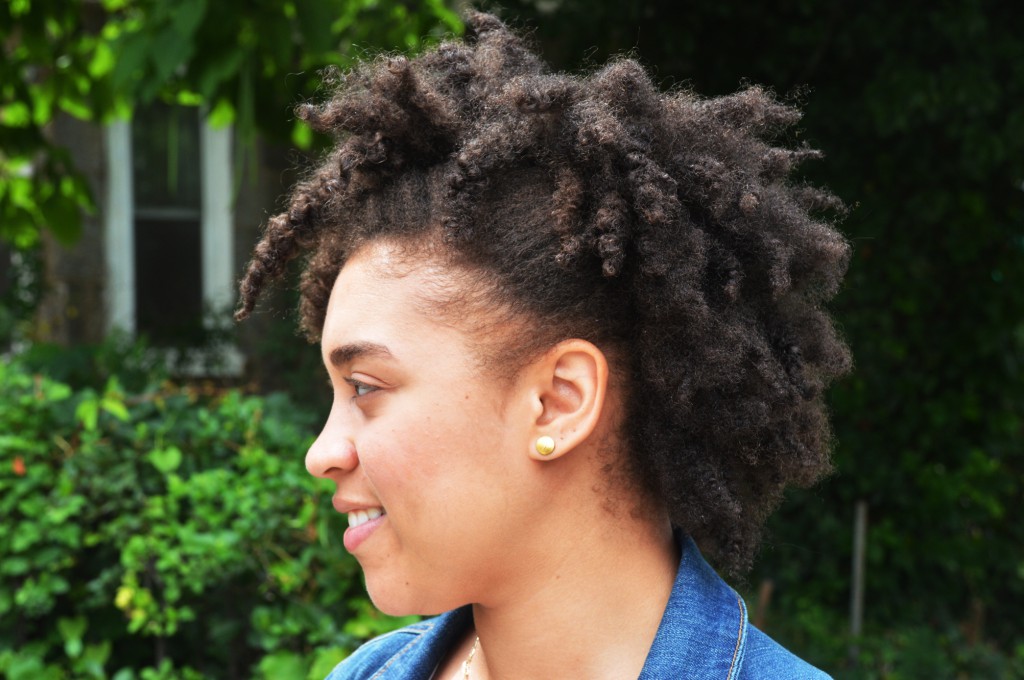 I used bobby pins to style and hold my hair in its mohawk form. I also even tried the Dark and Lovely Anti-Reversion Edge Sleeker, $5.99, for the first time which held my edges in its place. The mascara like brush makes applying the clear gel-like product simple and it tames edges with just enough tension for a smooth finish.
I really enjoyed the Au Naturale collection and would highly recommend these products to others. The entire collection is free of sulfates, parabens, and silicones. Dark and Lovely also explains how "Hair that Thrives can grow up to 4 inches a year*" and the "Anti-Breakage recipes with Guarana Root and Honey Help Nurture and Repair for root to tip curl defense." This collections also "*Reduces breakage making hair stronger so it can grow longer when using the Anti-Breakage recipe of shampoo, conditioner, mender or hair butter. Potential hair growth yearly is 4 inches." You can't argue with a products that has driven results! Each of the items retail for $9.99 and can be found at your local super store or drug store (spending loads of money won't be a concern for this product!). I will continue to use the Au Naturale Anti- Breakage line and look forward to trying the Anti-Shrinkage collection as well.
Have you tried Dark and Lovely's Au Naturale hair product line? If so what did you like and how did the products work for your hair texture and type?