Apothecaries have been around for centuries and were considered back then as today's version of pharmacist. When I think of the word 'apothecary' only a few brands pop into mind but after experiencing products from the Colorado Apothecary Artisan and Proprietress of FIG+YARROW, Brandy Monique, you might as well say I will be hooked for life. Women continue to dominate the industry when it comes to creating products that are unique, natural, and supports a healthier lifestyle but most importantly make us feel beautiful (and the entire family for that matter!). FIG+YARROW has been added to my radar list and I will have to keep an eye out for this wonderful artisan for more of her creations to come.
"FIG+YARROW is an artisan line of small-batch, handcrafted organic health+vanity products born of my love affair with botanicals and various earth elements. Their whisperings have guided many unique formulations designed for sensual enjoyment, physical radiance and overall vitality. All the materials I use–from the lovely and vibrant roots, leaves, flowers, minerals and oils to the glass containers the products live in–are selected for beauty, health and purity as they are designed to evoke these qualities for the user."-Brandy Monique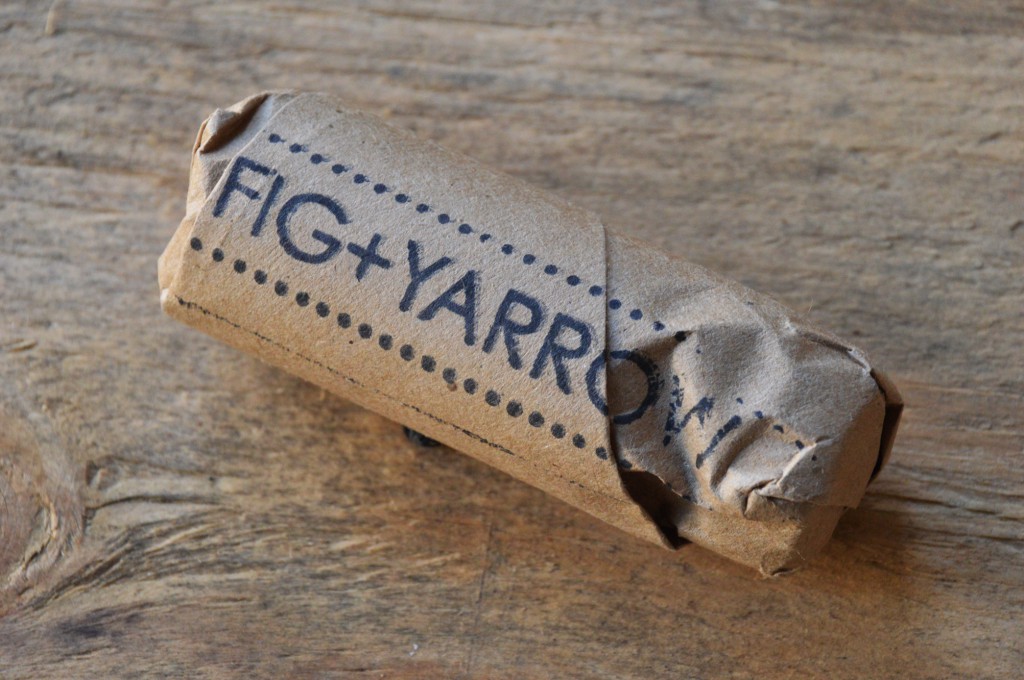 I tried FIG+YARROW's latest HEALTH+HYGEINE travel size Tooth Powder in Cornmint Lavender. Monique has been using this for the last 16 years and swears she hasn't had a cavity in that time. I was even more curious to try this product because, like the founder, I have yet to have a cavity so I HAVE to keep the record going. I also had braces in my middle school days and take great pride in maintaining my oral health, especially after having my dad kick out all that money for the orthodontist (boy was he not thrilled! But the results were priceless). I'm telling you when I leave the dentist office I feel like a queen because my dentist is always surprised by how I keep my teeth in such great condition…lol! On top of that, my teeth has become more sensitive over the years to hot or cold temperatures and causes some discomfort occasionally so I had to switch up my tooth paste.
I'm  not a fan of the Sensodyne tooth paste (made for sensitive teeth) and switched over to a more natural tooth paste when I came across a product recently. In your average tooth paste you can find ingredients like dioctyl sodium sulfosuccinate (which is a detergent that causes the tooth paste foam up), an antibacterial agent, and other preservatives, sweeteners or additives that I can't even pronounce! On the other hand, FIG+YARROW's Tooth Powder has ingredients I am familiar with like lavender, licorice root and aloe vera. The natural brighteners, white clay, sea salt, and baking soda, are mild abrasives that lighten teeth and deodorizes the breath. The herb neem supports healthy teeth, gums and fresh breath while the aloe vera reduces plaque and acts as an anti-inflammatory. The licorice root kills bacteria that causes cavities and minimizes oral infections. To give the tooth powder a mellow sweetness xylitol, a natural non-plaque-feeding sweetener, is used and the essential oils of cornmint and lavender make the flavor tasty; the antiseptic/astringent myrrh works in favor of gum health too!
Since the product is a powder, is made of organic ingredients, and doesn't have surfactants there will be no foam action. But foam does not equate to your teeth being clean just like the more lather your shampoo has doesn't necessarily make your hair cleaner (it actually dries it out!). I didn't mind the product having no foam because my teeth were still left clean and it had a sweet fresh taste. I could taste the sea salts which I didn't really mind but the lavender taste was very invigorating. Another great feature about the Tooth Powder is the packaging. The glass bottle keeps the ingredients fresh for longer and the 1.25 oz size is perfect for storing in my travel pouch when I hit the road; its spill proof and mess free! Paying $10 for such a small bottle may seem more on the steep end but to be truthful I feel like this could last 3-6 months or longer depending on how frequent you use it. For the full FIG+YARROW experience I would highly suggest following up the tooth powder with the Oral Hygiene Rinse.
All of the brand's products are made from the best ingredients which is directly from the earthy and it doesn't get any better than that! I can't wait to explore the other products but the facial care kit will be my next splurge! Visit figandyarrow.com, and follow them on Instagram @FigandYarrow, to explore all of their products; you'll be glad I told you to.
Image of Brandy Monique courtesy of Pistol PR; all other photography by AJ James.