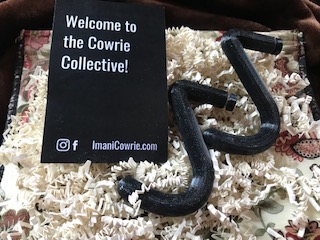 Over time, my sense of style shifted in my mid 20's. I became way more invested in accessories now being at the 30's age bracket. Rings are surely my fave to stack and splurge on. But its something about a statement earring that will make someone stop in their tracks to offer up a compliment. This is what I experience each time wearing the Imani Cowrie Mibili Black earrings. (Peep the image gallery when you click below)
Like seriously!
Not only does the Mibili earrings, and a few other designs, give the illusion of wearing gauges in my ears plus they're extremely light weight due to its unique design. An eco-friendly corn based plastic is used for these 3d printed earrings so you can sport a large, ear swinging accessory minus the pain.
On top of it all, Imani Cowrie is a Black owned + female powered company based in Jacksonville, Florida. Fueling the black economy while investing in a fierce and innovative product is a win win in my eyes. You surely do not want to miss out on what Imani Cowrie will release next so be sure to sign up for the email updates and to follow the Instagram page.
Black linen pant set @Thewardrobeorg
Cowrie shell top Via the homie @Raskief
Necklace from Mali Odune Day Festival (Philly)
Blue lash extensions @etiquetteevolution