Origins is a skincare brand that's been around since the 80's but I just recently discovered how great their products are after participating in the Cosmetic and Fragrances Essential Workshop at Macy's Center City. I had the opportunity to share my thoughts on a handful of selected products I tried and discussed my thoughts on my fall or winter essentials. Now that I've added Origins to my daily skin care routine, I had to let you in on the exclusive set, Like A Dream, only available at Macy's and my other favorite set you'll find (you know us girls like to have options!).
The Like A Dream set packs in holiday hydration for $51.00, however, starting today it will retail for $39.50. This set will work wonders for dry and parched skin. The Origins Drink Up Intensive Overnight mask is a good nighttime treatment to quench the skin's thirst. It has a nice creamy thick texture without feeling like it will clog your pores and its non-greasy. If you have oily or dry skin it will work great on either skin types. The High-Potency Night-A-Mins is a cream filled with renewing minerals. I would highly suggest using this cream prior to the Drink Up Intensive Overnight to have the minerals penetrate deep into the skin first. The Precipitation makes the deal full circle with a moisturizing recovery treatment for the body so the face and skin all over can be left fully hydrated. Don't forget the nice Origins cosmetic case and sleep mask so it will be easy to take this dream set anywhere!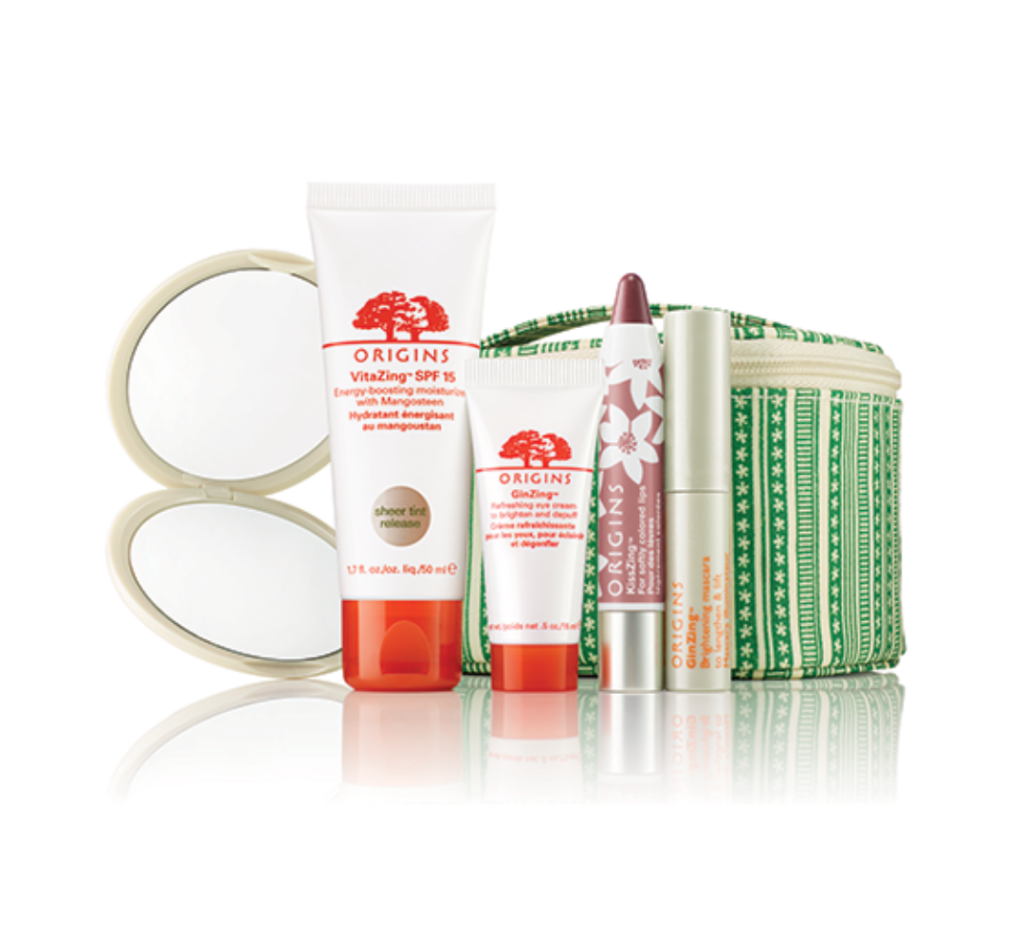 The Origins Glow So Nice set I purchased for myself not to long ago because I'm in LOVE with the VitaZing SPF 15 for daily sun protection. This set is $40.00 and not only includes the energy boosting SPF with Mangosteen and a GinZing brightening eye cream, but also comes with beauty essentials that work well for traveling on the go. You'll need nothing more than an Origins compact mirror to apply a KissZing lip color and GinZing brightening mascara. Pack everything in the 100% recycled cotton bag to take your glowing skincare on the go. If you still would like some extra assistance when looking for the perfect gift set that addresses certain skincare needs, feel free to seek out Vicki, the Origins Manager, in Macy's Center City and let her know I sent you!
Can you already imagine who you would gift this too yet? If not which products would you try?