Keeping the skin hydrated may not be an issue from many women but the circumstances tend to change once we hit the winter season. Random dry patches of skin start popping up out of nowhere on our face and body, or your skin may feel tighter than normal because the air is sucking the living hydration from your face. Usually around this time a lot of us may switch up our hair and skin care products because the beauty routine we used from the summer just won't cut it during the dryer winter months. StyleCaster offers 10 ways we all can get that nice, healthy, and glowing skin because "it not only looks feminine and natural, but plump hydrated skin is a marked sign of youth—something we all want […]. Of course, mastering these tricks requires a solid foundation, which means you shouldn't skimp on exfoliating, moisturizing, and drinking (a reasonable) amount of water." Take a look below and see what beauty tricks you can incorporate into your winter skincare routine today!
10. Here's a fun trick that beauty obsessives swear by: Burts Bees Replenishing Lip Balm with Pomegranate Oil is a miracle product when used on your cheeks. Yes, really! Its subtle pink tint adds a natural flush to skin, while the natural oils give off a hard-to-replicate dewy glow.
No need to add a lot—just a tiny swipe on each cheek, then blend. It also works wonders to break up an excess foundation or powder, if you applied too much.
9. The MVP of dewy skin? That would be coconut oil, ladies. This stuff works wonders as a non-comedogenic highlighter thanks to it's semi-solid makeup. Coconut oil solidifies when it's room temperature, so dabbing a little on your cheekbones, brow bone, and across the bridge of your nose adds a dewy, hydrated finish that's not runny or overly oily.
8. Keep a spray bottle filled with two parts water and one part Marula oil (which is sold at any health food store, and every Whole Foods.) After you've applied your makeup, give your face a spritz or two. In case you're unfamiliar, Marula is one most powerful antioxidant oils in the world, and both softens skin and balances moisture levels.
Replacing Marula oil with pure coconut water, jasmine oil (the main ingredient in Rodin's culty Olio Lusso oil), sweet almond oil, or lavender oil also does the trick.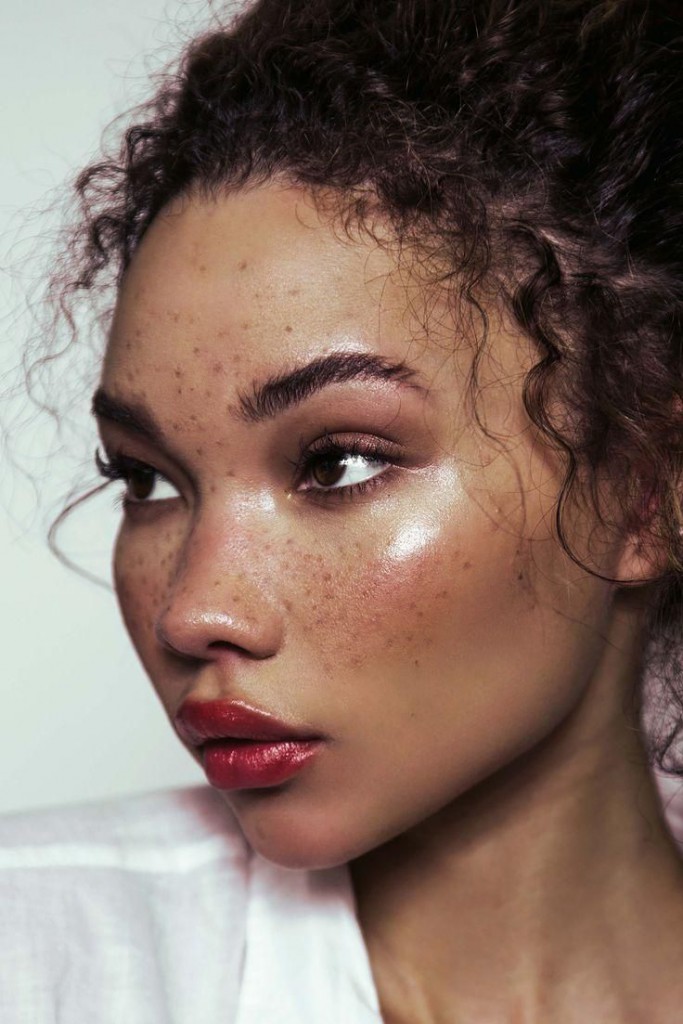 7. Don't dab liquid highlighter on after your foundation—mix a drop into it, and apply with a damp BeautyBlender, or another high-quality sponge.
6. Get familiar with Royal Jelly. It's a honey bee secretion (yes, made from actual bees), that in-the-know women swear by thanks to its intense amount of complex B vitamins, amino acids, fatty acids, minerals, enzymes, natural antibiotic properties, and antibacterial properties. While you can buy products made the Royal Jelly, we suggest picking up a $15 tub of the stuff in its pure form—meaning, no added chemicals—and slathering it on bare skin before bed and before you apply makeup.
5. Blend two shades of lipstick together—one creamy but matte and one with a little shimmer—then pat onto your cheekbones. Voila—customized blush that stays put and gives you a sexy glow.
4. Add a drop of cold-pressed avocado oil to cream or gel blush—it's thick enough to not make the color run, but will add a dewier finish.
3. If you're not a fan of runny liquid highlighters, grab a small pot of peach, gold, beige, or white eyeshadow. From there, press with your finger on to your cheekbones for a subtle dewy finish. If you're really in a DIY mood, crack the shadow and mix with a little coconut oil for an instant highlighter.2. Don't discount the power of good old petroleum jelly—aka Vaseline—for a model-ready glow. Using a light hand, apply on your lids, cheeks, and lips, with or without makeup.
1. Dampen your BeautyBlender so it swells to three times its normal size, then dab it in a water-based gel foundation (Chantecaille's new Future Skin formula is brilliant—it's oil-free but contains 60% charged water and seaweed) and and start blending. The wet sponge will thin out the makeup, which already has a high component of water, so your skin will quite literally look dewy.