In Featured Image: Myself and a 3-4 day old twist out on my hair
When describing curly locs or uniquely twisted coils there are plenty of ways to describe naturally textured hair. When describing one's hair, you may hear naturals use a series of letters ranging from a-c and numbers from 2-4. I'm not TOO familiar with this hair typing system and thought it would be helpful to educate myself and breakdown the subject so that it may become a bit more understandable to others who may have been somewhat confused like me (I don't have the answers to everything but we all can easily become more knowledgeable with some internet probing)! Black Girl with Long Hair had some detailed information about the hair typing guide and like myself, they also thought NaturallyCurly.com's guide was useful. With both of the resources combined determining your naturally curly texture won't be as intimidating as you thought it would be. The insert below will break down the hair types first, ranging from 4-2, and then the subtypes: a-c. Take a deep breathe and enjoy the lesson:
Type 4 – Kinky Hair
• Type 4 is kinky, or very tightly curled, with a clearly visible curl pattern
• Circumference: Crochet needle or even smaller
• The hair is very wiry, very tightly coiled and very, very fragile
• Type 4 hair can range from fine/thin to wiry/coarse with lots and lots of strands densely packed together
• Type 4 hair has fewer cuticle layers than any other hair type, which means that it has less natural protection from the damage you inflict by combing, brushing, curling, blow-drying and straightening it
• Type 4 hair is known to shrink up to 75% of the actual hair length
There are two Type 4 subtypes:
•4b: Has a "Z" pattern, less of a defined curl pattern. Instead of curling or coiling, the hair bends in sharp angles like the letter "Z"; has a cotton-like feel
•4a: Tightly coiled hair that, when stretched, has an "S" pattern, much like curly hair. It tends to have more moisture than 4b; has a definite curl pattern
Type 3c – Curly Kinky Hair
Subtype 3c is really more than a subtype. It's a type NaturallyCurly members developed because the original system left out this hair type, which falls between 3b and 4a, having its own special characteristics.
• Type 3c hair has tight curls in corkscrews
• Circumference: Pencil or straw
• The curls can be either kinky, or very tightly curled, with lots and lots of strands densely packed together
• Getting this type of hair to blow dry straight is more challenging than for 3a or 3b, but it usually can be done
• The very tight curls are usually fine in texture
Type 3 – Curly Hair
• There is a definite loopy "S" pattern
• Curls are well-defined and springy
• Type 3 hair has a lot of body; it is easily styled in its natural state or straightened with a blow-dryer
• It isn't coarse, like many believe, but soft and very fine—there's just a lot of it
• Combinations of Type 3a and 3b curls are common
There are two Type 3 subtypes:
•3b: Medium amount of curl, from bouncy ringlets to tight corkscrews.
Circumference: Sharpie size
•3a: Curls are naturally big, loose and usually very shiny.
Circumference: sidewalk-chalk size
Type 2 – Wavy Hair
• The wave or curl forms throughout the hair in the shape of the letter "S"
• Type 2 hair sticks close to the head; it won't bounce up, even when layered
There are three Type 2 subtypes:
•2c: Thick and coarse and more resistant to styling and will frizz easily
•2c celebrities: Jennifer Nettles, Daisy Fuentes, Brittany Snow
•2b: Medium-textured and a little resistant to styling; has a tendency to frizz
•2b celebrities: Joss Stone, Nelly Furtado, Carrie Underwood
•2a: Fine, thin and very easy to handle; easily straightened or curled
-blackgirllonghair.com
Black Girl with long Hair provided great information about how to figure out your texture type. They even included styling tips and referenced celebrities who fell within those categories which is why you can see their names listed within each hair type section. You can click here for the full article. If you happen to be more of a visual person like myself, NaturallyCurly.com has a virtual hair texture quiz you can take to make this process fun, quick and easy with images of real everyday woman to help paint a realistic view of the hair types.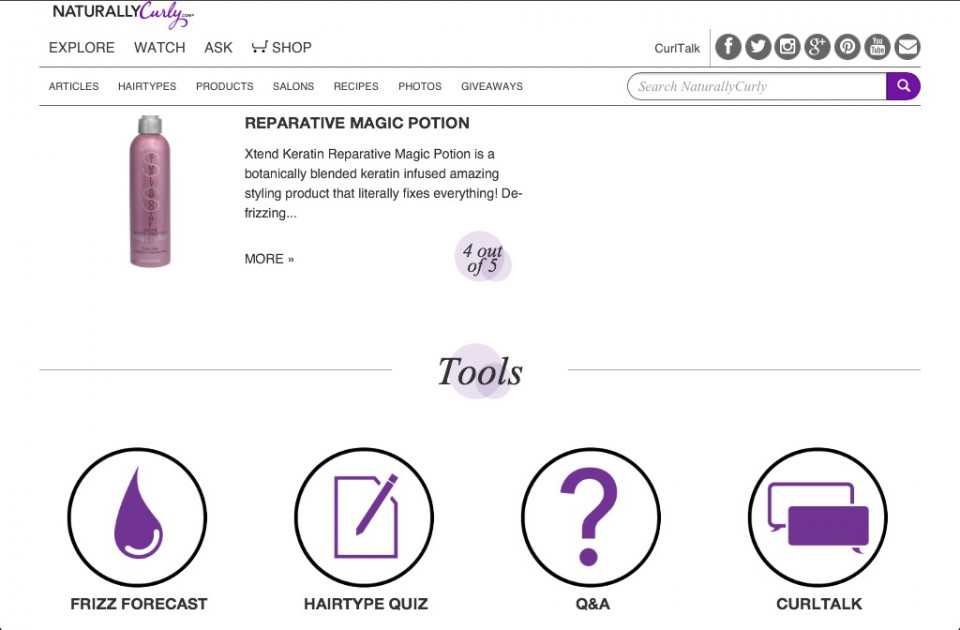 The hair type quiz is easily found by clicking on the "Explore" or "Tool" section on the website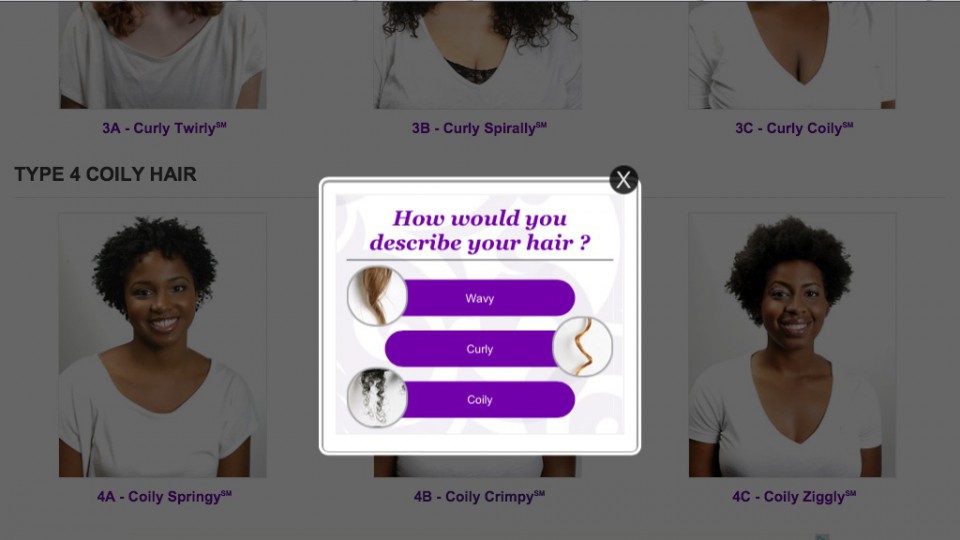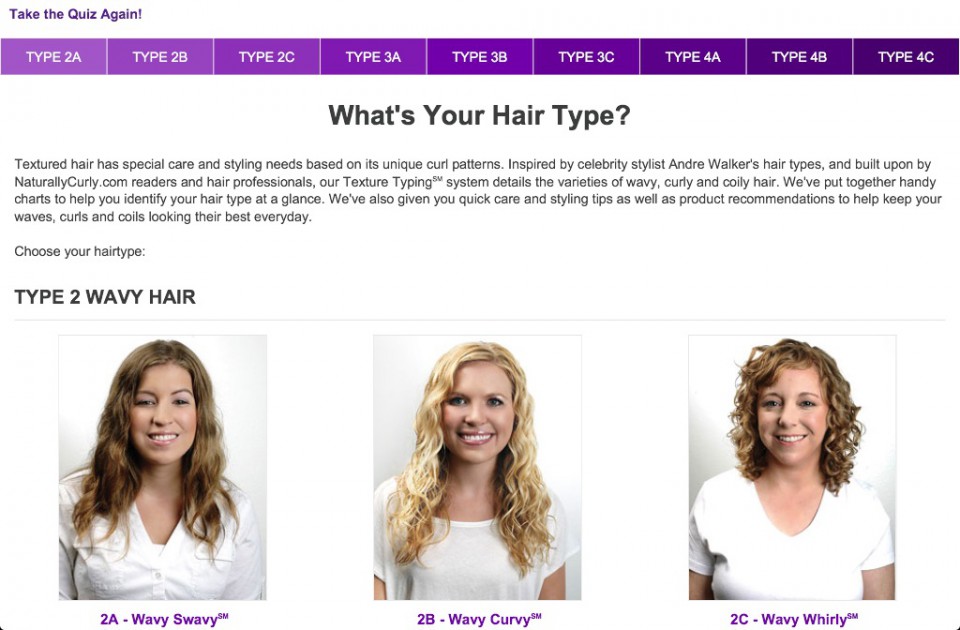 These images of the different hair types makes determining your hair texture really simple!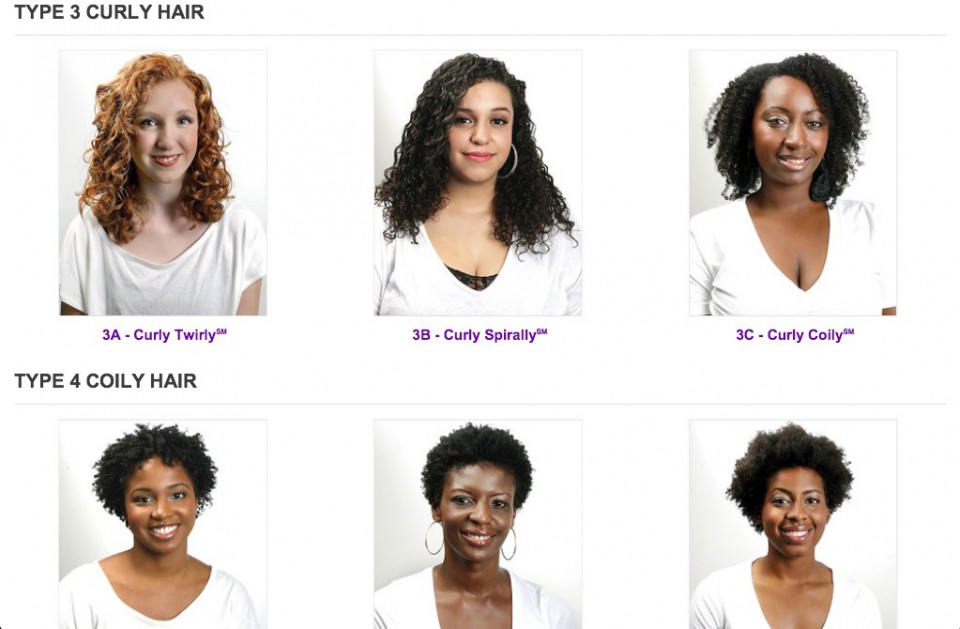 Using this evaluation can be useful when looking for styling techniques or products more suitable for your hair. Sometimes people may find that they don't fall into an identified category because of how broad the system is and can easily lead one to frustration over something that holds no real significance. The NaturallyCurly.com community moved around this issue by creating a subtype to compensate for this lacking system and for those who fell in between a sub set (the explanation can be found above under the 3c hair type section). What I don't like about this typing system is how it gives women and natural hair transitioners another reason to differentiate their hair from the next person. Or it could continue to solidify how one texture is better than another. Like many systems that are created (government, education, social justice), there are many drawbacks that can allow a group/category seem "elite" or better than those who don't fall into that group. Truthfully, all curls should be treated equally: with lots of  moisture and tender loving care.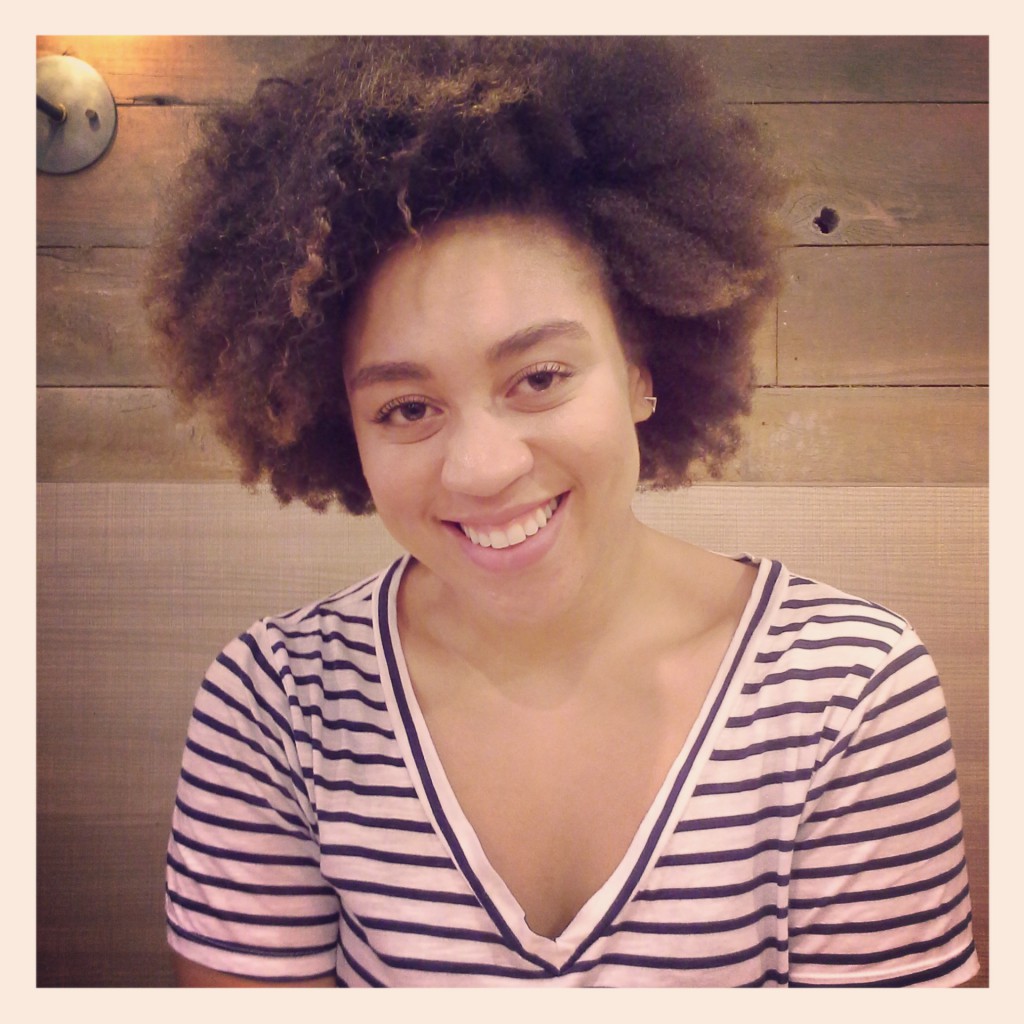 A few days after a stretched style, like two strand twists, is when my hair has the most volume 
With my hair and tight curls, I am considered a type 4 because my curls have no real definition and appear very zig zag. I do expericene 75% shrinkage each time I shampoo my hair so stretching my hair is a must! I have a slightly looser curl pattern in the top crown of my head that are a 4a. I also currently have some heat damage in this section and the ends of my hair are extremely straight which is why I have been gradually removing the damage. Most importantly, I know my hair is dense, is comparable to the feeling of cotton, but my strands are fine and fragile as well. My hair is porous which is why it can absorb a large amount of water and I find myself combating shrinkage on a daily bases (one day it looks like I cut my hair and other days it can look like it grew 4inches!). Taking care of your natural hair and maintaining its health should be your main focus because all hair is good hair, but healthy hair is the best hair!