I was digging and diving to find out more about a new Detroit Black owned business that offers loans for women to purchase their hair extensions yesterday. I watched the YouTube video above and wanted to make sure I share the details and weigh in on the matter with my thoughts. According to Jenice Armstrong, a Daily News Colomnist, The Weave Loan Store is a husband wife team, Fred and Dominique, who started the venture in May.
"It's harmless. There's no ill intent," Fred said yesterday. "We are very sensitive to our customers." –Philly.com
But is this idea Really harmless? My philosophy is this: yes beauty is a commodity in many ways but true beauty cannot be bought. Why not you may ask? Because true beauty starts from within a person and radiates from the outside. Just like we know money does not buy happiness the same concept relates to beauty. Yes we can have the hair extensions and cosmetics to make us all be on FLEEK and looking flawless all the time, but once you remove that exterior and you don't feel Beautiful or love yourself without it then that's where you need to evaluate your self and to look deeper within you.
Detroit is a population made up of 82.7% of African Americans (UnitedStatesCensusBureau.com) and is known all around the country as being a rough economical state filled with citizens who may very well be undeserved. If someone struggling to make ends meet on a regular, now we're talking about adding a line of debt, for those citizens who choose to do so,  so they can afford hair extensions.
Lets think people.
Not a loan for a house  you want to buy, or a car to get you from here to there, or to pay off college tuition. We're talking about PAYING INTEREST on a weave that you put on your head. You can think I'm being harsh but there is something wrong with that picture. I believe it's all about living within your means as well. We all know parents may want to go all out and something special for their daughter, or a family member, like have their hair styled with a fresh weave for prom or graduation. But if you can't really afford it and it's not essential to life or survival (and a weave is not), then go the inexpensive route and rock out with the typical Outre Remi or Goddess brands for the special occasion that can last up to 6 months if that's the case. We all know virgin Brazilian and Indian hair is the newest wave of fine luxury and long lasting hair that can last over a year of installations but SO what! There are many things in life that you should not go breaking your neck for and this is one of them!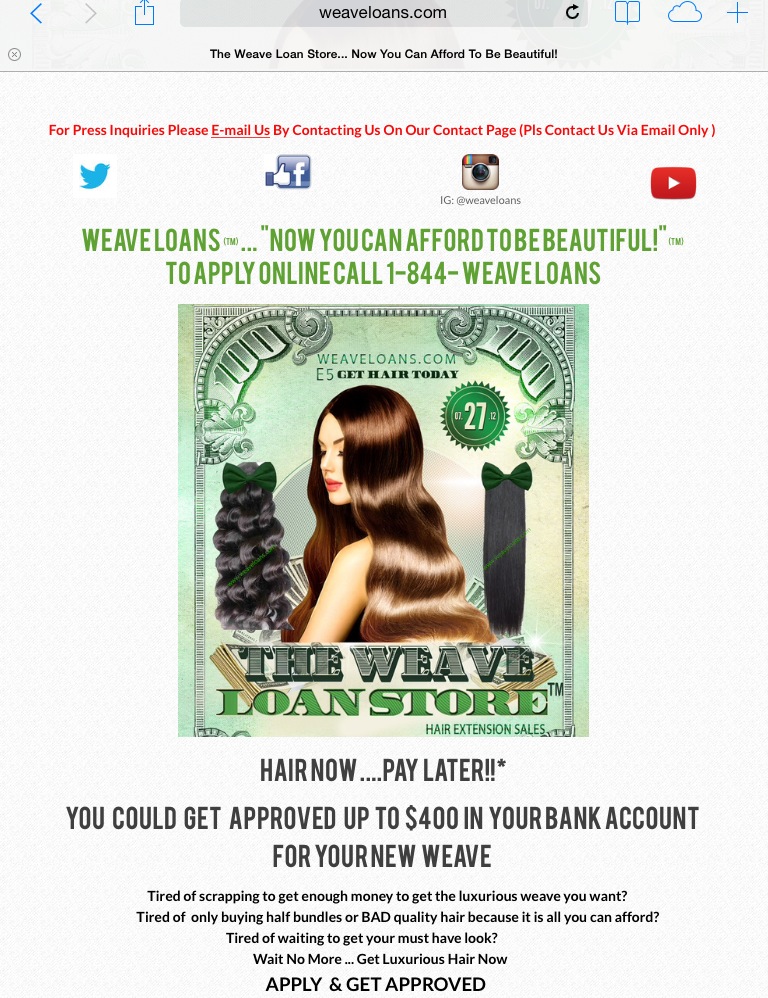 What killed me was the tag line, "Now you can afford to be beautiful" with an image of a woman that looks nothing like the women in which the Detroit population represents. Ladies you were beautiful before the weave and you still are beautiful with or without the weave. That's the part the black community has to understand and it's really hard for those who may be undeserved in a city like Detroit to not focus on self appearance and image when the society they live in is over looking them because they may not look up to par. There is a lot conflict I feel going on with this new weave loan venture and it has nothing to do with pushing the fact that women should transition to being natural. It's about focusing on the mental and emotional health of our Black women and this not it. I hope its just a trend that comes and goes.
Would you seek out a weave loan or do you know someone that would?