Dark and Lovely is a brand known for being at the fore front of hair care for African American women for over 40 years. From keeping up with global trends while transforming the lives of others along the way, Dark and Lovely has done it again with the launch of their #LoveMyColor campaign to celebrate its Fade Resist Rich Conditioning Color while creating a platform for women to "not only embrace their beauty, but to highlight their colorful personalities, which make them who they are" (Dark and Lovely, 2016). Claire Sulmers, founder and Editor-In-Chief of Fashion Bomb Daily, is the #LoveMyColor ambassador and is the perfect person to get this interactive project on everyone's radar. I'm ready to see what spring trends Claire has to share this year!
OrganixLocs: How does it feel to be Dark and Lovely's #LoveMyColor campaign ambassador?
Claire Sulmers: It feels fantastic. Dark and Lovely is a great brand and has fantastic products and I think that it is a perfect fit so I'm really excited for this campaign.
OL: Nice! What exactly does # LoveMyColor mean to you?
CS: #LoveMyColor means, and I use hair color obviously [because] I have blonde locs and they're my signature statement, but #LoveMyColor also extends to loving the skin we're in, loving our different shades of brown [tones] and embracing the variety of black beauty. #LoveMyColor can also extend into fashion, [and] I'm known for fashion, so you know being bold, fearless, and embracing color in all areas of your life whether it's with your ensemble or with your hair.
OL: Especially as women of color, the concept of color goes into all facets of life, from fashion, to the differing shades of skin tones and the different hair styles that everyone has so it was pretty cool to see how Dark and Lovely was able to bring this in full circle. You know, to have other women exude what #LoveMyColor is to them; that was really different!
CS: Exactly. We plan to extend this to the Fashion Bomb Daily readership and have people visit the LoveMyColor.com website to start sharing images of their various hair colors and ensembles. That's another really exciting part of this is to have that reader engagement, so I'm looking forward to see Fashion Bombshell's interpretation of #LoveMyColor.
OL: As an Editor-In-Chief, I'm sure you know what's happening in terms of style and fashion. What are the color trends for this spring?
CS: I would say that we're going more towards the mono tone, the monochromatic, the blush pinks, the creams, the whites [and] incorporating more pastels. It's great that the color palette is a little more muted in terms of clothes because I usually go bold and bright, with all the accents, and with your hair tone.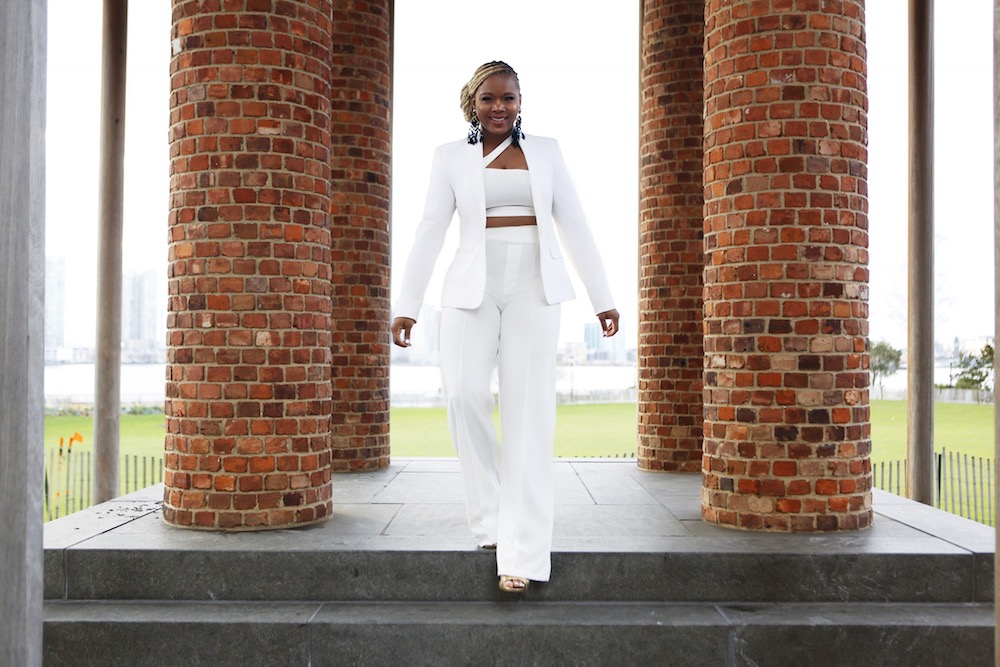 Image via Instagram.com/Clairesulmers
OL: Are you rocking mono tones today?
CS: I'm wearing black and gray for now [laughs]. But you know the blonde will act as an accent to the clean and neutral color palette that I'm wearing today.
OL: Of course the crown, or our hair, always acts as that statement piece as well.
CS: Yeah your crown is your glory [chuckles].
OL: For women on the go but want to keep it comfortable and stylish, what would you say are some simple ways that women can integrate color into their everyday look?
CS: Umm, well just in terms of a hair style, like I get my hair colored once a month, but I always make sure that I have some sort of style whether it's a braid or a twist, or a style that can last for a good week or so. Outside of hair a great statement bag, like I'm actually writing something on statement bags right now, so just a pop of color like a red bag or a blue bag or throw on a blue pump or something like that will add a little chuck of color to your outfit.
OL: Do you feel as though there are things people should beware of as far as taking it over board with color, or is there a way to keep things at a minimum?
CS: You know, I think it's kind of the same thing with prints as it is with color. If you're not an aficionado it's not that, you know, the fashion police will come and round you up and put you in a paddy wagon. But if you're not so sure consult the color wheel or consult a stylish friend or somebody with an eye. You can go over board with color [chuckles] so maybe take one [accessory] off or if you're ever unsure consult an expert.
OL: Right. Or they could just make their way over to Fashion Bomb Daily for that matter!
CS: Exactly! At Fashion Bomb Daily you'll see plenty of fantastic examples of women and we also always consult the color wheel, which is our most poplar post of all time, and it's giving people the 411 on how to mix and match everything from your hair color down to your accessories and outfits.
OL: Yeah it's a science to everything, because I'm a cosmetologist as well, so from the hair coloring stand point you even have to be mindful of the underlying pigments of the skin tone and making sure you're adjusting the colors to that. Even with style and fashion the color wheel is also needed.
CS: Yeah, yeah. [Like] somebody asked me earlier 'how do you know which colors work with blonde hair' and [I'm like] blue and yellow they go together because I know that cobalt blue will always works. Or even cherry red and yellow, like you see with the McDonald's sign [chuckles] but it's a little strange that it's a McDonald's sign, but I know cherry red is one of those colors I like to rock and it will look right. Find the right colors that could work for your hair style and then building a wardrobe around that.
OL: That's also a good point to make with the fashion and pastel hair colors being more popular among women today so you always want to make sure your hair is somewhat aligned with your outfit.
CS: Yeah to know which colors compliment and which colors don't [but] then if all else fails black, white and grey is always like a safe bet [laughs].
OL: What about someone who works in an office or corporate setting; how would they go about being a little bit more creative by adding color, but you know, they still would like to keep it simple and subtle?
CS: It depends on how you style [your hair]. Even with my hair, I always use myself as an example, I can do the low bun with the slick back and it's not too ostentatious. I wouldn't recommend that you go to a corporate office with like purple hair or green hair but if it's like one of those naturally occurring colors then you can always go for subtly with how you style it.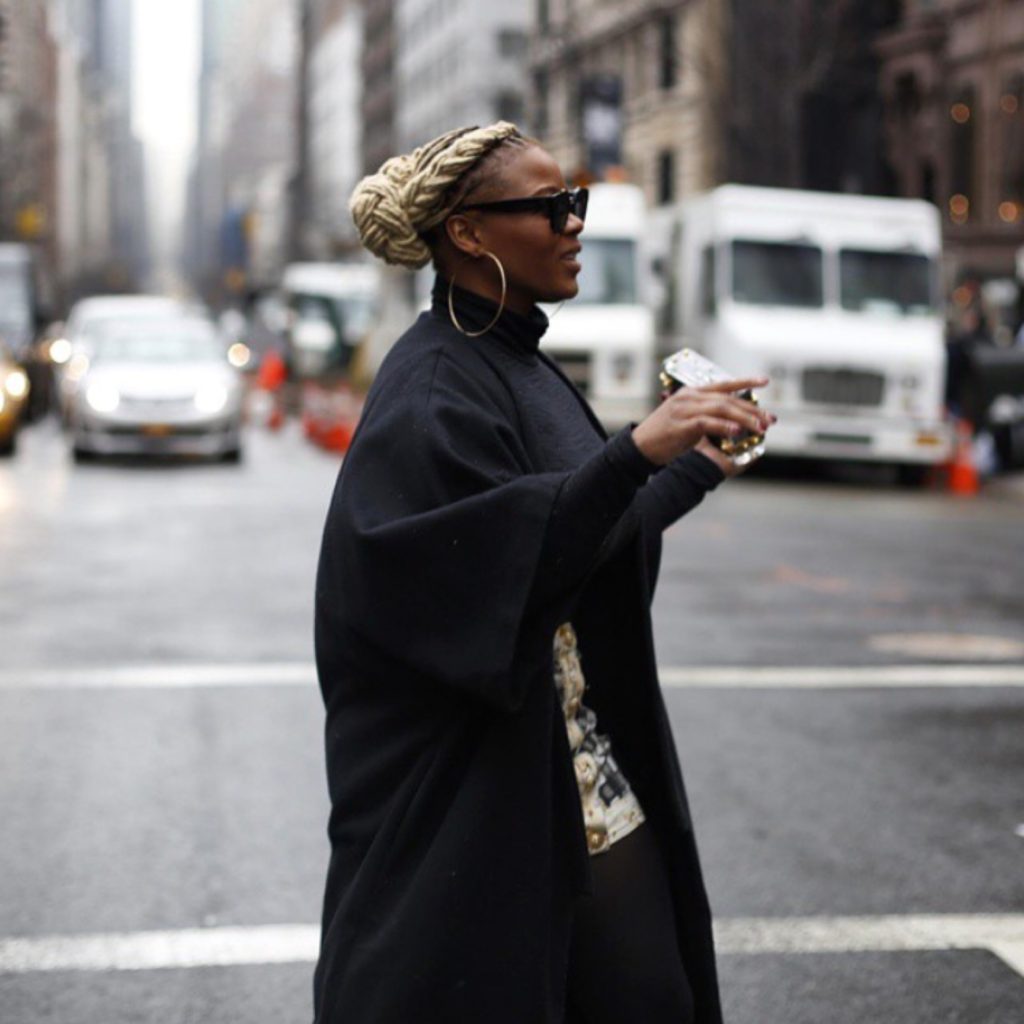 Image via Instagram
OL: Right.   
CS: Usually the more conservative hair styles are pretty easy to achieve like the low bun or a slick pony.
OL: When it comes to beauty and skincare, what are some of your favorite spring staples so far?  
CS: A great sunscreen is good.
OL: Can you say that one more time [jokingly]? People of color feel like they don't need sunscreen!
CS: Exactly! But yeah a great facial moisturizer with SPF 15, drinking lots of water to make sure you're hydrated, cleansing the skin everyday and making sure you're hydrated and moisturized.
OL: Are there any color palettes you like to play around with for makeup and cosmetics when you're pulling together an outfit for the season?
CS: Always a bright red lip is fine but I've actually been using a neutral lip. Again going for that subtly in other ways to really make a statement with one thing whether it's your hair color or any other sort of accents.
OL: You do have your blonde Bombshell locs so how often do you maintain the color like retouches and things like that?
CS: I would say once a month I touch up the color. Otherwise [my hair] is washed twice and I probably wash and twist my hair every week, or 10 days, and every month touch up the roots [with color].
OL: Do you have a coveted stylist you go to who helps to maintain your hair color and loc maintenance?
CS: Yes her name is Sammy Lacombe and she's been doing my hair for years now. She comes to my house, she takes her time [styling my hair] and she was the one who helped me make the switch to platinum; she's very talented [chuckles].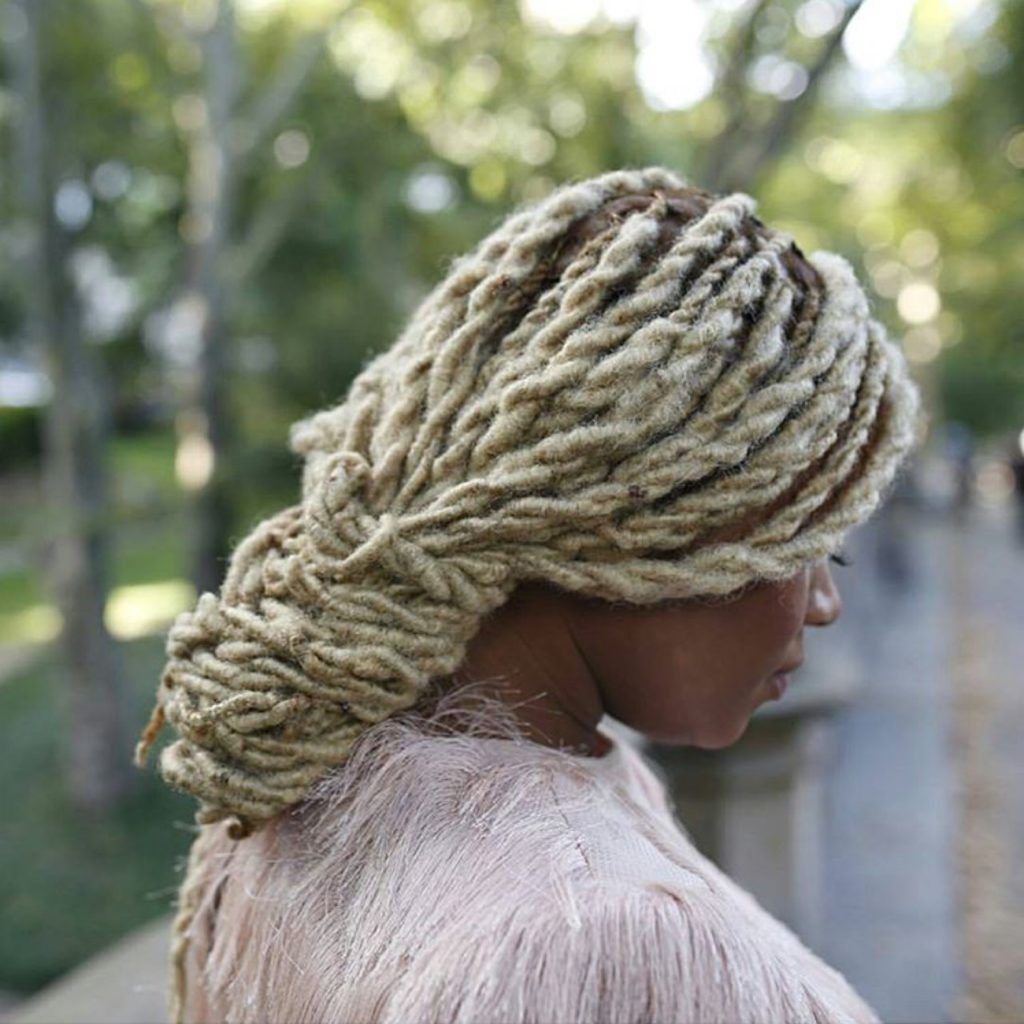 Image via Instagram
OL: Nice! How long have you been enjoying your loc journey thus far?
CS: I started my locs in 2002, so I started when I was still in college, and its been quite a long ride and an interesting long journey you know; I wouldn't change this hair style for the world.
OL: Have you ever thought about incorporating maybe a highlighted loc with a pastel or neon color or you're like nope I'll keep it to my signature?
CS: Oh yeah and sometimes readers will be like 'change your hair' and I'm like no. This is me, this is my thing, this is my signature; when people walk into a room they know it's me because they see my hair. You know once you find something that works stick to it, but I also say until you find something that works feel free to experiment with different colors and styles to see which one is the right fit for you.
OL: Ok. As far as products, what helps you to maintain the health and moisture of your hair since it is colored?
CS: I love using Dark and Lovely's Au Naturale line. They have this great Moisture Lock Super Quench Leave In Spray that I use everyday. [When] I'm washing my hair I condition it with their Deep Conditioning Delight [that] has Coconut and Moringa oils in it. You know it's perfect for thirsty dehydrated hair and sometimes with coloring it can strip your hair of moisture so I have to make sure it's always moisturized.
OL: Now is there anything that all of your readers and followers can expect to see anything happening this spring from Fashion Bomb Daily to keep our eyes open for?
CS: Yes, yes of course. We have Cocktails with Claire; it's a shopping party where people can come, they can network, and shop from local vendors. And this year we're actually having a panel during the day called "Breaking into Entertainment". On the panel is Miss Diddy, who is going to be my co-host for all of our spring dates, as well as Angela Yee, Yandy Smith, Ty Hunter, and Alicia L. Quarels. Our first date in New York is May 7th and then we're going to L.A. on May 28th, then we're going to Chicago on June 11th and ending with Atlanta on July 23rd. It's going to be a busy spring and Dark and Lovely is on board with us. People can come and try out the products and witness all the hydration and see for their self.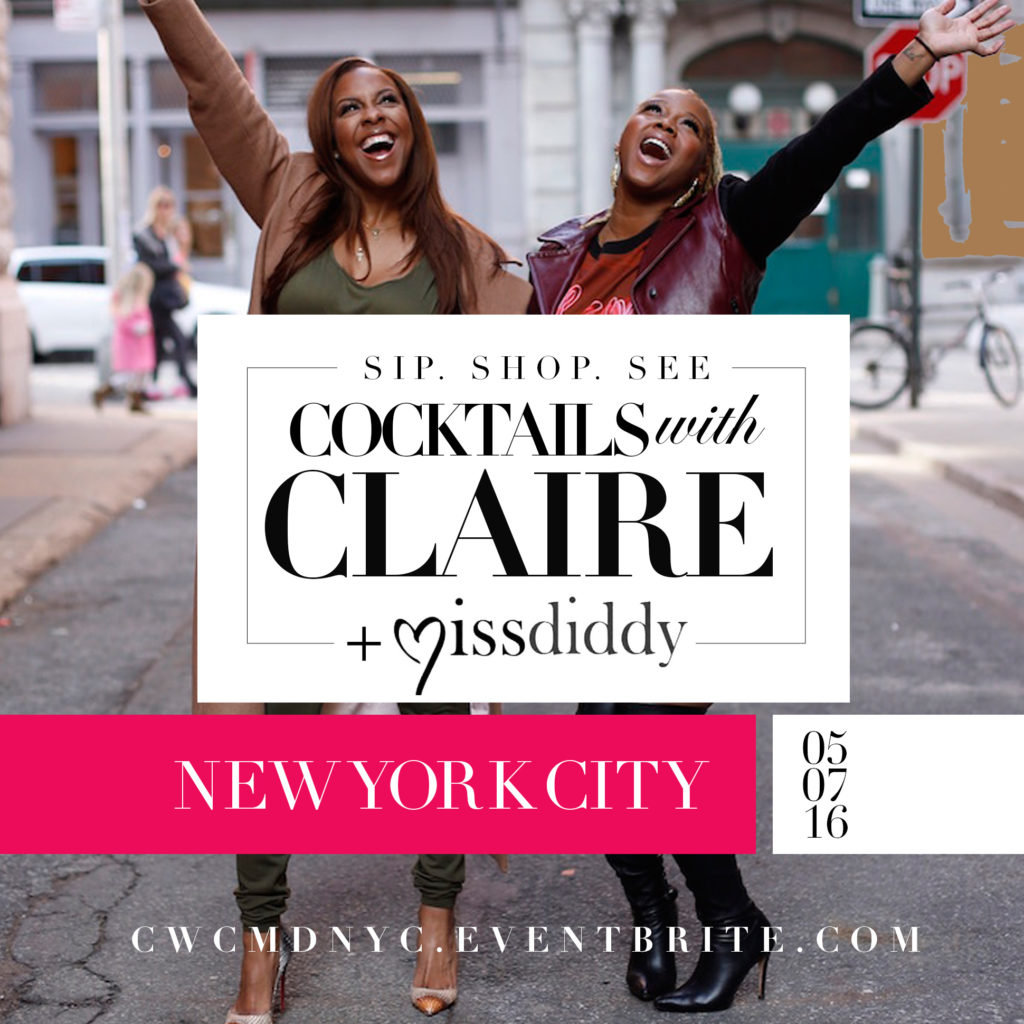 OL: You have an amazing line up, the perfect products to go with it, so you're going to have a blast this spring!
CS: Yeah. I can't wait it's going to be lots of fun.
Thank you Claire for all of the hair and fashion trends this season. If you're interested in meeting the Fashion Bomb Daily Editor-in-Chief herself while sipping cocktails and shopping, then head over to Cocktails with Claire to purchase your ticket today!