What's up with these overt discriminatory jabs at women who choose to wear their natural crown of curls? An insta video came through on my feed the other night (Jan 26th) via vlogger Taren Guy that revealed a pretty absurd and disheartening comment on the television shopping network QVC. The two Caucasian hosts were advertising a handbag which was being modeled by a woman with curly hair, who soon became the underlying chuckle for their discriminatory joke in seconds.
Just like that the words rolled off their tongues! I was never a QVC supporter but I am pretty sure that there are plenty of African American consumers who make up a large portion of their shoppers but why would you want to give your hard earned money to people or a company who don't value you. What makes it even worst is that Carol's Daughter is the reason why a good deal of black shoppers support QVC because of the exclusive hair and body products that are only sold though the network. And to be honest I am pretty sure the stylist may have even used Carol's Daughter to style the model's beautiful mane (ummhmm and snap!). I am glad a few bloggers and their followers have been posting the video clip on social media and calling QVC out because what happened was inappropriate and deserves an apology which did happen once an LA blogger, Bougie Black Girl, tweeted the QVC host about the offensive comment.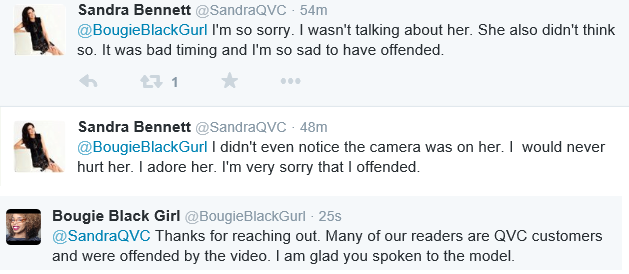 But really how sincere was the apology if Sandra Bennett, the QVC sales woman, later deleted her twitter conversation according to Cosmopolitian.com? Exactly, doesn't sound right to me either! If the comment was unintentional like she stated then why go back and delete your apology? Women and families in support of our culture need to start taking a stand for one another when we feel offended. I applaud Bougie Black Girl for seeking a direct apology from the QVC host and moments like this should be circulating throughout the news. We make a big enough fuss about things that shouldn't matter instead of speaking up when needed. Whether Bennett wasn't talking about the model or not the video showed us other wise and the comment was said on national television.
Have you seen the video and do you shop on QVC? If so dose this effect what you think of the QVC company?