The OrganixLocs Profile is a way to showcase everyday women who embrace their natural being and their hair. Just like the hair on our heads can vary from fine to course and wavy to kinky, these women are as unique as their hair.
Name: Kriss Mincey
Location: West Philly via Baltimore, MD
OL: How long have you been natural?
KM: I've been natural for 5 years, before "going natural" really picked up. When I first saw natural hair care products in Target, I knew it had finally become a thing, and I was thrilled.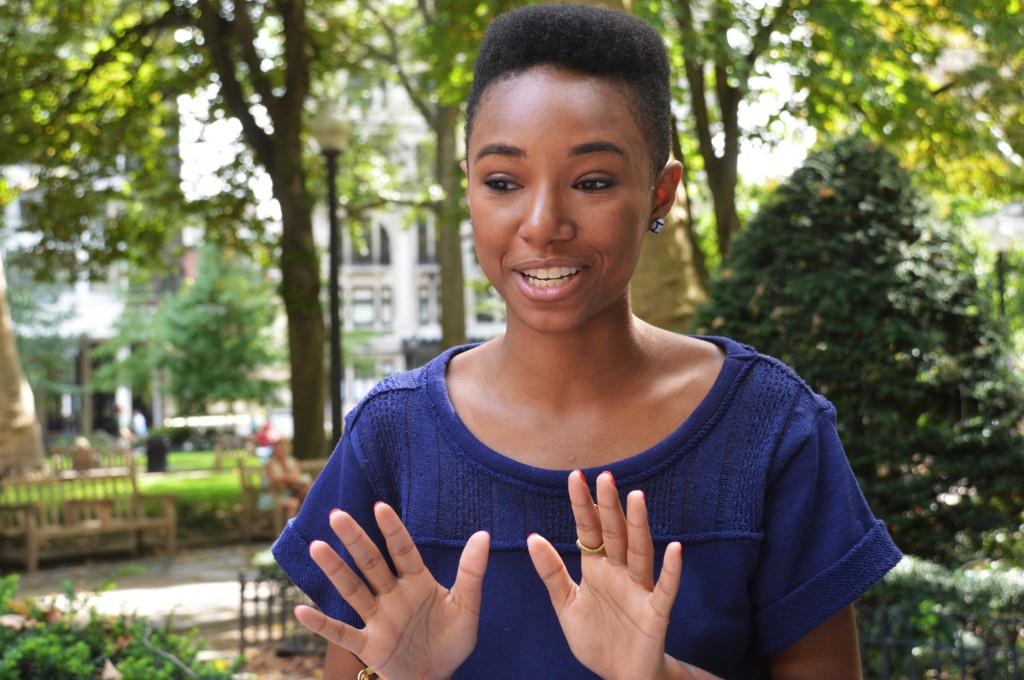 OL: What inspired you to begin your natural hair journey?
KM: What inspired me to start my natural hair journey had a lot to do with my mother. She had always worn her hair naturally kinky and short. So, even while I had had kiddie perms since 1st grade, kinky (and short) hair was never taboo to me. When I started college at the University of Maryland College Park, I started wearing my hair curly all the time. Even with a perm, I could rock bantu knots, to a curly bush, to a full-blown Angela Davis afro. And when I'd pull it into a bun, I'd imagine it short. People later asked, "So what do you think you're trying to say with this [natural] look," to which I'd reply lightheartedly, " *shrugs* I dunno, 'I look good'."
OL: Now I see that your hair is cut very low. Who is your barber and how often do you have it cut?
KM: Courtesy of the 2014 Naturalista Hair Show, founded by the N Natural Hair Studio in Silver Spring, MD, my latest cut was crafted by Barber Armando Blanco of Fresh Fades Barber Shop, also in Silver Spring, MD. As for a barber in Philadelphia, I'm still looking. Choosing your barber is like choosing your fruit: they gotta be the right one.
OL: Do you ever think you will ever grow you hair out?
KM: I'm all for growing my hair out, eventually. And I show love to those with relaxed styles, too. I try to invest in people, not hair protein and products. I think my ideas about self-compassion and the human experience are a lot more worth people's time than how I wear my hair.
OL: As women, the way we wear or style our hair can often have an effect on our personal fashion. Has being natural influenced your sense of style?
KM: Wearing my hair natural and short has actually introduced me to more African-influenced style. At first, I steered away from what seemed like a cliche: a brown girl with kinky hair wearing any given West African print *giggles*. But once I turned off that sort of response, I started appreciating the vestiges of ancestry in things that were actually so commonplace in African-American culture. Like bamboo earrings, gold chains, cuffs–and more recently, no earrings at all, because I felt my hair and face were statement enough. Going natural invited me to find the root of the matter–not necessarily just the origin Black style, but rather, the core of what mattered most. I love long hair and a good jam to lay my edges down. But going natural made me see how "extra" all that was, and how we use hair as an accessory, a distraction, an ornament; and the same goes for hair products and jewelry. When you strip away the things that matter least, it illuminates the parts of us that matter most. And for me, this sort of thinking manifested itself in a minimalistic, African-inspired style of dress.
The stone pendant above, along with the ring below and earrings was designed by Akilah Carter of Akilah Itan hand crafted jewelry and accessories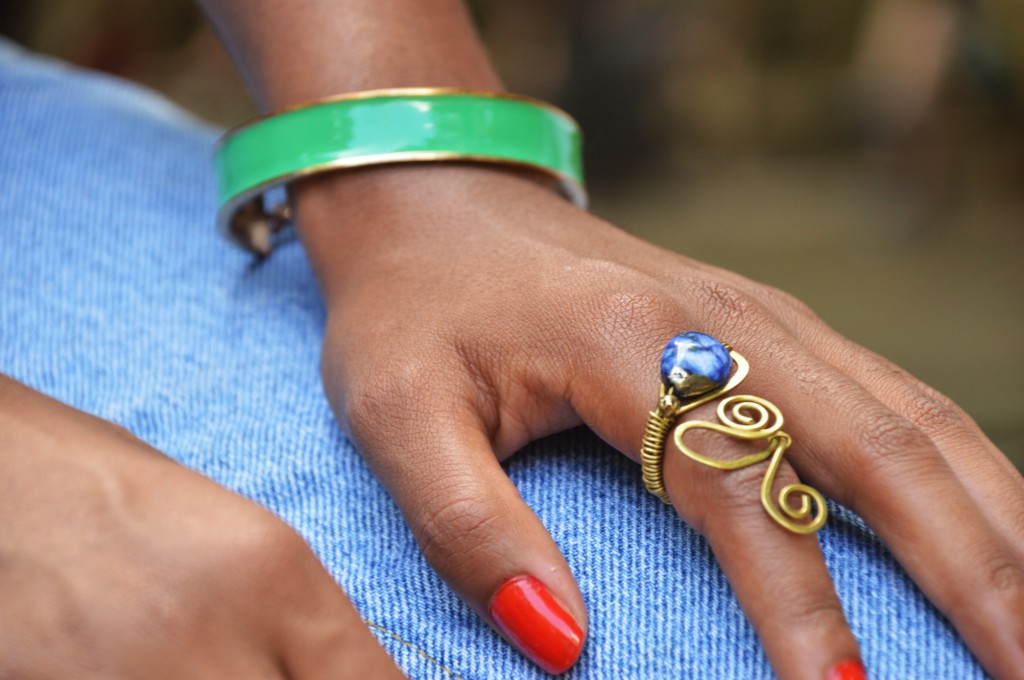 OL: What are your favorite products you like to use on your hair?
KM: When I use product, I really enjoy Ms. Jessie's hair care line. Other than that, I've started testing out things that I eat or use for scent, like honey, lavender, peppermint and other natural things on my hair. I can't say one way or another which is best; the natural hair journey continues.
OL: Who is your natural hair Icon and why?
KM: I like to think of my "natural hair icons" as everyday heroes who just happen to wear their hair natural: Whoopie Goldberg, for her disregard for feminine gender scripts and colorism among black-identified peoples; Janelle Monae and Solange for being incredibly weird, and awesome at it; and Grace Jones, who is, for lack of better term, a maverick, a timeless, walking work of art for her insistence on disrupting assumptions about what it means to be a woman, of color, unapologetically sexual, darker skinned–and gifted, while occupying those identity spaces. After giving you this list, it would appear that natural hair is saying something. Wearing natural hair is like the first marker, the initial identifier telling the world, "I am me, unapologetically."
OL: What do you enjoy the most about being a natural woman?
KM: What I enjoy most about wearing my hair natural is being free from restriction. For some reason, the more we fit into typically desirable frames of beauty, the more people feel inclined to police that beauty, saying what it should be and how. With natural hair (and granted, as it is now trending, the following is surely changing), I find myself, and other people, really just appreciating the humanness of it. Getting caught in the rain, and liking it, is just the start of it. It's like, because I don't feel like I have to prove anything with my hair or compete for someone's approval of it, people see it and oblige, as if to recognize royalty. That's it, I suppose; the realization of self. That's what naturally kinky hair represents to so many. At the very least, I think it's what it means to me.
There you have it from Ms. Naturalista herself. To #CATCHKRISS, or if you want to follow this Artrepreneur, follow her on IG and Twitter @KrissMincey or at www.KrissMincey.com.