The OrganixLocs Profile is a way to showcase everyday women who embrace their natural being and their hair. Just like the hair on our heads can vary from fine to course and wavy to kinky, these women are as unique as their hair.
Name: Beverly Thomas
Location: Philadelphia, PA.
OL: How long have you been natural?
BT: Well, I've technically always been "natural." My mom tried to perm my hair in 7th grade. It didn't take. I wore cornrows throughout middle school. I got my hair straightened maybe 4 times in middle school. I was a blow dryed ponytail girl. When I got to high school I still wore conrows, but I started getting my hair straightened and curled more often at Dominican hair salons. I wore my hair in a natural fro maybe 2 weeks out of the year.
OL: What inspired you to begin your natural hair journey?
BT: In my senior year I bought my own flat iron and started to straighten and curl my own hair, and I did that throughout my first 3 years of college until I stepped on my flat iron and broke it. It was under a pile of clothes; saddest day ever. I couldn't afford a new one at the time (the flat irons I need to buy are $80+), so I began to experiment with perm rods and Bantu knots. Been rockin' big hair ever since.
OL: How would you describe your hair?
BT: My hair is unbelievably thick and fros naturally because I don't have much shrinkage. My hair gets bigger by the day. If it's not straightened, there's not much I can do to prevent it from being big. It's three separate textures but overall my hair is Type 4. The sides and "kitchen" of my hair is a softer and looser curl than the middle and front of my hair; it's 4a. The middle of my hair is 4a and the front is 4b.
OL: As women, the way we wear or style our hair can often effect the way we dress. Has being natural influenced your sense of style?
BT: My hair is also difficult to manage [when styling around an outfit] haha. I get very lazy about it so I tend to opt for natural fros and puffs. I used to perm rod my hair but it gets tedious to maintain. I almost never wear hats haha. They don't sit well on my head because my hair is so thick. I also wrap my hair up when it's humid or raining; I look like a gypsy on those days. Lastly, I pay so much more attention to my necklines when I'm wearing a fro because collared shirts can get in the way.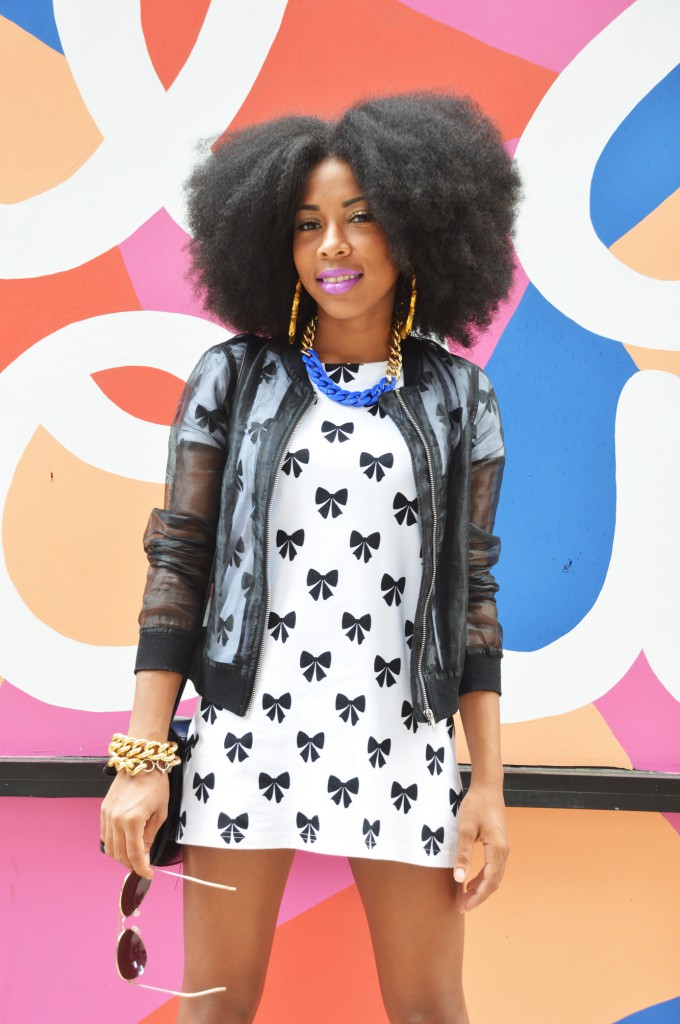 OL: What are your favorite products you like to use on your hair?
BT: I like styling products from Shea Moisture's Coconut & Hibiscus line and moisturizing products from Soft Sheen Carson's Roots of Nature line. I also like a few products from Creme of Nature's Argan Oil line, such as the Perfect Edges and Perfect 7, which is an all-in-one leave in, heat protectant, detangler and moisturizer. I wash and condition my hair with Elucence or Pantene and I deep condition with Hollywood Beauty's Tea Tree Cholesterol.
OL: Who is your natural hair Icon and why?
BT: I have two, Tracy Ellis Ross and Solange because in my mind we look like we could be related. And I also appreciate their sense of fashion. We all sort of have long faces, a similar complexion and black hair; their looks taught me how to wear my hair to frame my face, and dress to accentuate my big hair by mixing funky prints and varying my necklines.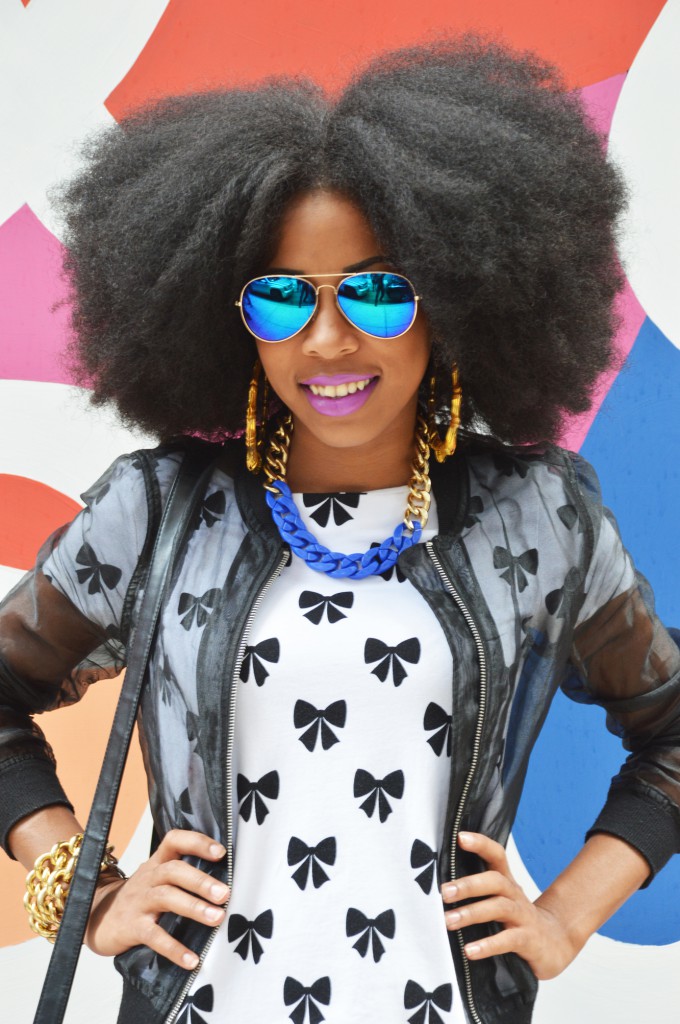 OL: What do you enjoy the most about being a naturally curly woman?
BT: I enjoy the versatility of it. I can have big hair or straight hair because my texture allows it. Styling from wet hair, blow-dried hair and straight hair always creates a different look even if I use the same rollers or braid my hair the same. I'm constantly changing my hair because I'm very into fashion and my hair is a big part of my outfit look and presentation.
Follow Beverly on IG @Baddie.Bev to stay updated on her endless hair styles and wardrobe inspirations.