It's about that time of year, well I'm actually long over due, when I go to the hair salon for a trim. In the past I went to the nearest Dominican salon for my shampoo, blow dry and trim. Although I didn't go often (maybe twice a year) I could tell my hair felt the after shock of their services. I've had my scalp scorched by the flaming hot dryers and my type 4 kinky curls racked and pulled through a tiny round brush (or what they considered detangling) was becoming enough. Now that I care for my hair differently, I want to go to a salon where my curls are welcomed for being in their natural springy state, or a place that gives me the option of cutting my hair either dry or wet (which is not seen as a common method for my hair type and it is possible). This year it has been my mission to search for hair salons in Philly who can cater to natural hair like mine and yours.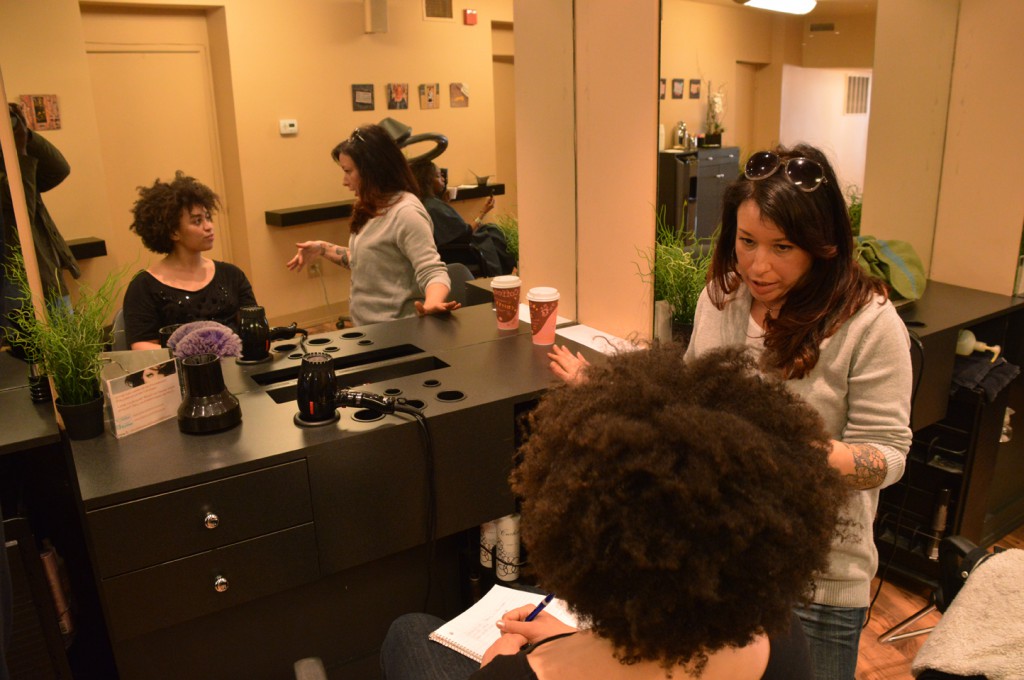 The first step in doing so is by setting up a consultation with a stylist after researching the salon. This may seem like common sense but in this day and age some stylist can create a great looking hair style but lack skills in the hair care/health department. And with that being I said I compiled a list of hair salons and went through a few Yelp reviews when I came across Stephanie Fiorilli at Siaani Salon to kick start my first salon consultations. She was even kind enough to let my boyfriend, of AJsculture.com, capture the moment with his camera.
I was already familiar with the salon since I came here for an extension installation a year ago by another stylist. The deciding factor for my consultation with Stephanie was her training with curl experts Oiudad and Devachan. The two brands specialize in providing products for textured hair and cutting courses where stylist receive their training in New York. We chatted about Stephanie's 19 years of experience in the hair care industry and learned that her specialties are cutting, curls, and up-dos but she does just about everything! She took the time to explain to me how cutting my hair texture while wet would work.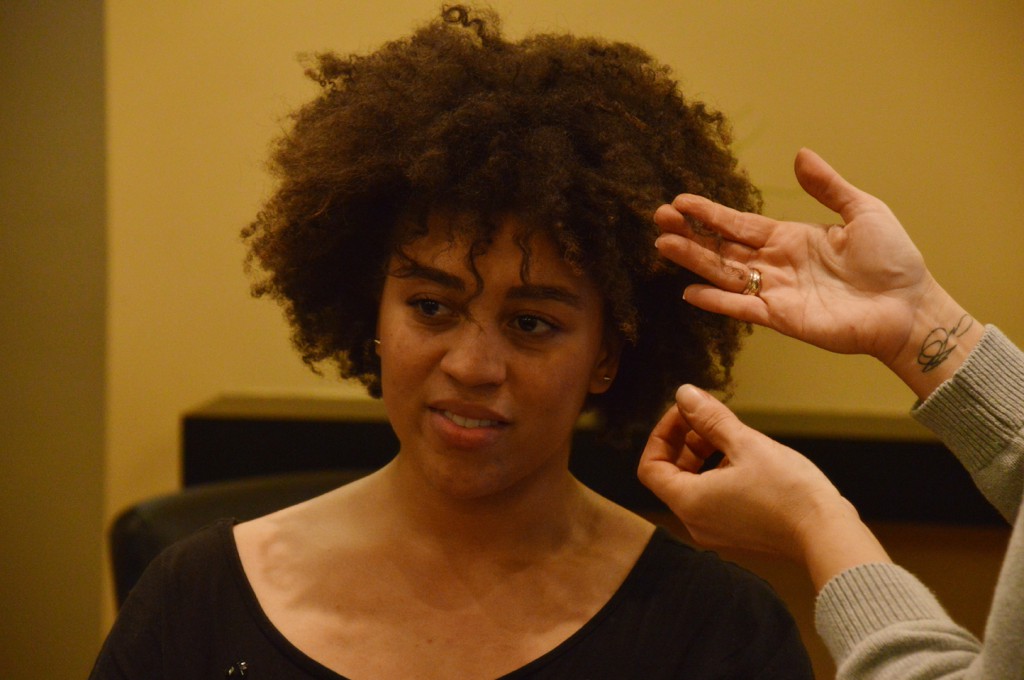 She picked up strands of my curly hair and demonstrated how much would likely be removed when trimmed. With curly hair trimming it can be trickier because the stylist has to feel the damaged ends of the hair while wet in order to remove it. Stephanie would first trim the hair while dry then shampoo and condition the hair using Curlisto products. With a leave-in conditioner she would clean up any sections she missed with the shears again for a final shape. She also believes that over touching curling hair during the cutting process, not accounting for how much the hair will shrink, and not properly conditioning the hair are common mistakes made when dealing with curly hair.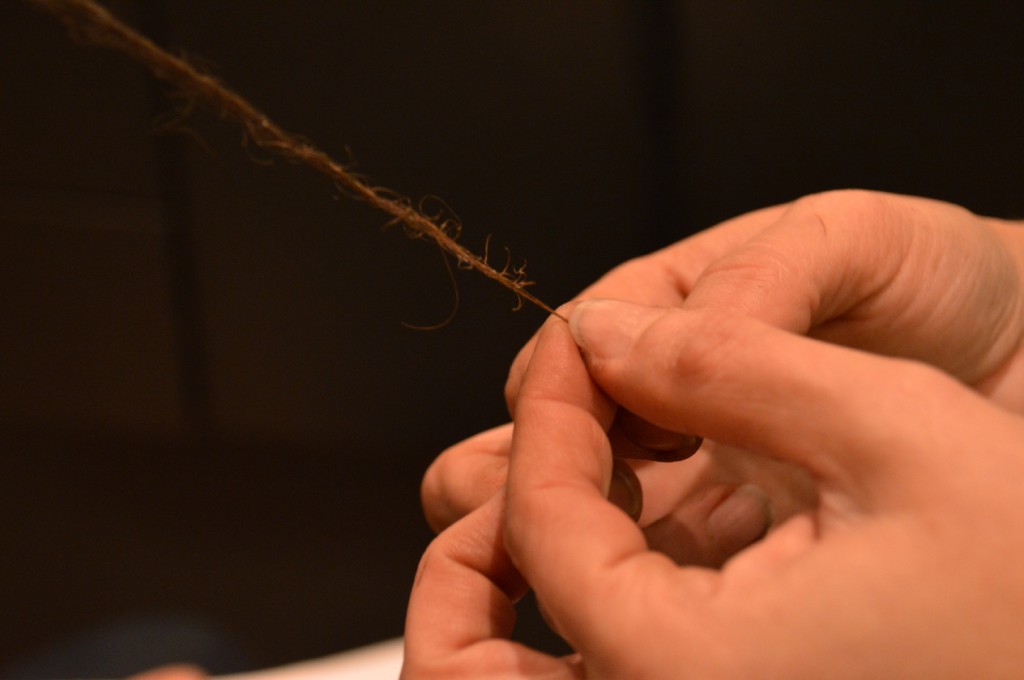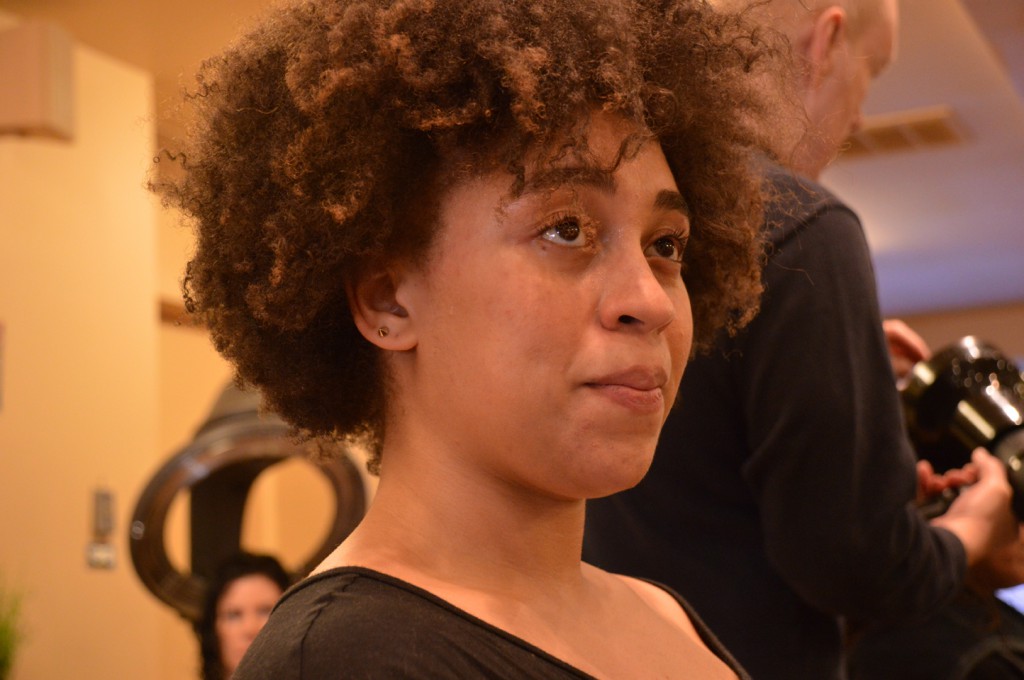 Look at my curly fro wild and free! A great trim will give my hair more shape and I can have my heat damaged ends in the crown area removed
Stephanie and I were chatting away talking about hair and I enjoyed my educational consultation with her. Both of us believe it is important to have a consultation with a stylist prior to the actual appointment because it allows both parties to get to know each other and address questions or concerns before making any changes to your appearance. The best thing about a consultation is that it's free! You can check out Stephanie and her work at 2032 Chestnut Street, Phila, PA 19103. Her base rate for a trim is $100 and the price fluctuates depending on the cut desired.
Do you normally schedule a hair consultation before going to a new stylist? Was the consultation beneficial in any way and do you think hair consultations are important? Drop a comment or two below!