Yesterday I got a text from a friend about a natural hair scavenger hunt on Temple University's campus and since I didn't have anything planned that night I grabbed the boyfriend to go see what it was all about. The "Quest to Go Natural Scavenger Hunt" was presented by Temple's first natural hair and beauty organization B.A.N.T.U., which stands for Beautifully and Naturally Tangled Up. The organization was founded in November of 2011 and has been empowering and educating others to love and maintain their natural hair.
I met the natural beauties of B.A.N.T.U and other amazing students who joined in on the scavenger hunt. I was already in a competitive mode after watching the latest episode of Amazing Race earlier that day. After teaming up into pairs The entire group migrated to three locations (Fresh Grocer, Rite Aide, and a beauty supply store) with a list of riddles to solve while looking for items that coincided with things used during the natural hair journey. It was quite the challenge but fun at the same time. I learned some hair care facts and each participant went home with a prize for their curly manes. You can learn more about B.A.N.T.U by going to their Facebook like page for information about meet ups, discussions, and activities on empowering others to embrace their natural beauty. Follow the organization on Twitter and Instagram as well @BANTU_TU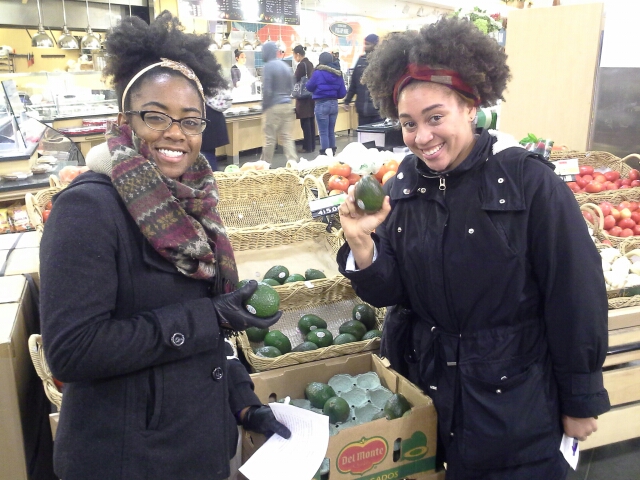 Layla and I with the avocados at Fresh Grocer. Did you know this mushy green fruit is a great protein for your hair and a facial mask?