The Politics of Black Women's Hair Symposium at Rowan University (RU) continues to make an incredible impact within the student community, so much so that the Student Mentoring Program and the Women's Center was able to bring this special program for its third year! The students at RU always show up ready to engage and share their thoughts which is super important within a campus setting.
I can always recognize familiar faces from the university, along with faculty and staff who have supported as well, but I am always amazed by the amount of teens who attend from the neighboring Glassboro High School because empowering the youth to create change is a priority; as adults we set the tone for them!
During the opening keynote, I touched on a few topics like the importance of preserving black hairstyles with the help of a spotlight feature on artist Shani Crowe, what black hair looks like when depicted through media, military service women, and sports in our present day. We are beginning to see an dramatic increase in TRUE representations of men and women taking pride in their natural hair and appearances; it's an amazing sight!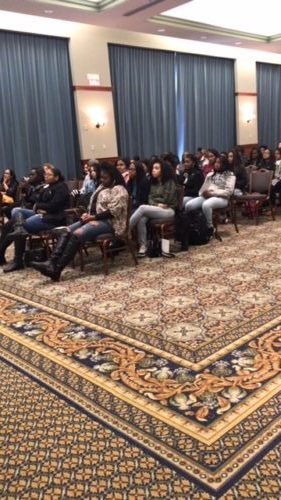 All of the lovely participants!
Following the keynote we broke out into concurrent workshop session where I discussed the chemistry of hair and its maintenance. It later turned into a great dialogue about how we can respond in an effective manner when faced with those who discriminate against or stereotype black hair. I really appreciate the ladies from Glassboro High School who shared their personal encounters with non-black students at their age, how it affects them, and applauded them on how they carried themselves in the awkward situations. Afterwards, I was off to moderate a panel of hair care professionals where myths were debunked (like the famous one about black people and head lice; it actually can happen, however, it's not as common), product quality and its ingredients was explained (not every label that claims to be a "natural" product is true), and a range of real life topics.
I was truly glad to be a part of  the symposium again and I have to thank Temple Jordan and JoAnna Murphy at the Office of Social Justice, Inclusion and Conflict Resolution. I'm sure I'll everyone soon!